How did it escalate so quickly for Ferrari at the Russian GP? Team Principal Mattia Binotto tried to explain the strategy:
In Sochi, Ferrari had again the fastest car. But instead of a fourth victory in a row and a second double victory, Ferrari earned only 15 points. Sebastian Vettel retired because of a defect and Leclerc came in only third. Worse the drivers seemed to be in disagreement again.
It all began with the start. Vettel pulled off better than expected, also thanks to Leclerc's slipstream – from third to first place. Leclerc then demanded over the radio, Vettel should let him pass as agreed before the race.
The German, however, was much faster than his team-mate and saw the Ferrari success endangered if he unnecessarily slowed himself down. Ferrari's radio communication proved that. Here is the transcript of this crucial phase:
Leclerc is told: "Sebastian will let you by next lap."
Vettel: "I would have got him anyways, but let's break away for another two laps. Let me know."
Vettel is told: "Let Charles by."
Vettel: "Well, tell him to close up."
Leclerc: "You put me behind, I respected everything… We'll speak later, but now it's difficult to close the gap, obviously."
Vettel is told: "He's trying to close the gap, let him by, he's 1.4 behind."
Vettel is told: "We are looking to Plan C, Charles 1.9 behind."
Vettel is told: "You are the fastest car on track, head down, you're doing well."
Leclerc is told: "Charles, we will do the swap a bit later on, Lewis is a bit close, and we want to push now, we will do it later, just focus on your race, thank you."
Leclerc: "I completely understand, the only thing is that I respected, I gave you the slipstream no problems, but then I tried to push at the beginning of the race, but I overheated the tires. Anyway, it's no problems… manage the situation."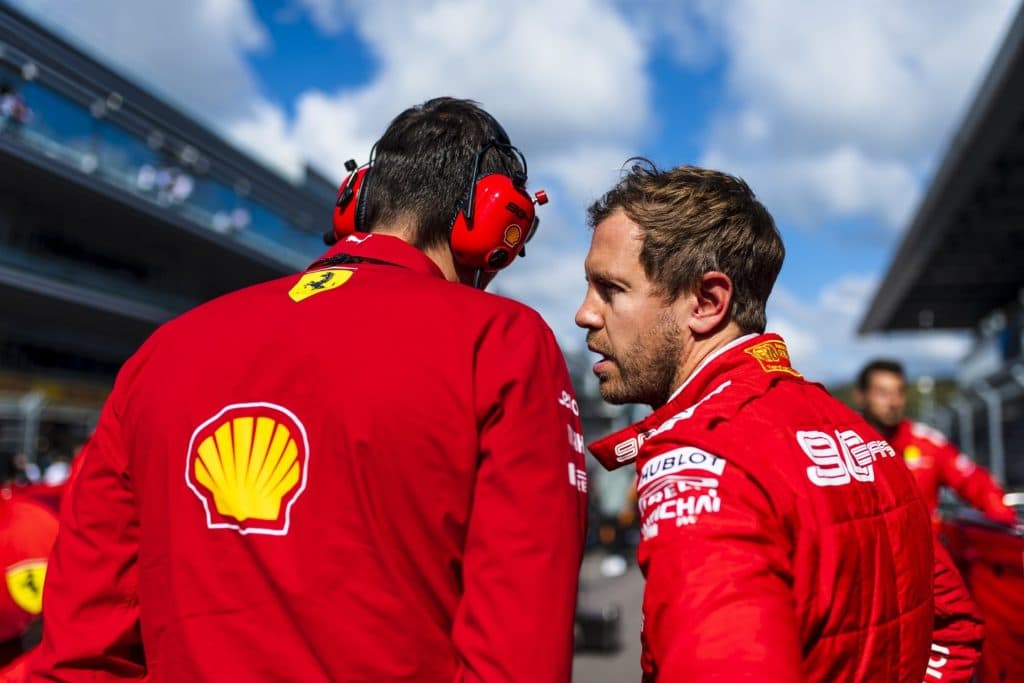 The radio communication is also proof that Ferrari just isn't capable of managing its drivers. Ferrari's leadership seemed overwhelmed during the Russian Grand Prix and Mattia Binotto's justification attempts were less than convincing:
"We knew we needed to avoid giving Hamilton the slipstream, so Charles should rather pull Seb forward, and Leclerc wouldn't defend his position against Vettel. Later they would swap again. That was the agreement. The start of the two drivers was about the same. Seb was able to pass Hamilton and then, of course, was behind Leclerc without needing help…"
What Binotto and his strategists didn't calculate for: Vettel was much faster than Leclerc. Reason: "Vettel," according to former World Champion Jacques Villeneuve, "had set up his car for the race and therefore benefited from it."
Binotto indirectly confirmed that:
"The start went according to plan, so the drivers had different views on how that would work out, and yes, we told Seb to give it away, but Vettel also rightly argued that Charles was not close enough. Then Vettel moved away from the front and we decided to change the place later," explained Binotto.
Ferrari then let Leclerc pit much earlier than Vettel – a classic undercut routine. But a planned exchange of positions wasn't the reason for the earlier Leclerc stop, according to Binotto:
"We ordered Charles in earlier because his left rear tire was tattered, the moment was just right if we had both cars in, then we would have been vulnerable in terms of a safety car, so we left Vettel out there to defend the lead. Then he told us that his tires were wearing down, so we got him in, too."
Villeneuve saw things differently. On Italian TV he accused Ferrari:
"There was no reason for Ferrari to swap positions because Vettel was the faster man. Ferrari used all their concentration on how to move Leclerc forward. Today, they were punished for it by Karma and rightly so."
*This article was first published in German at autobild.de/motorsport.