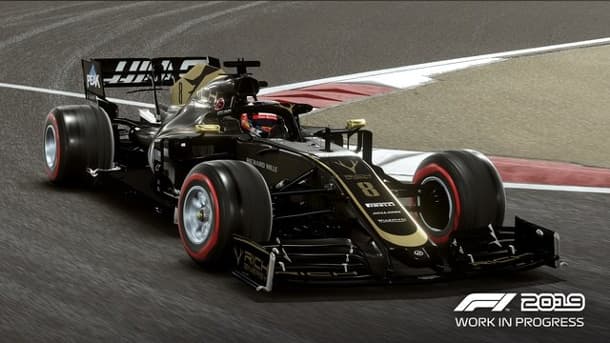 Codemasters has been developing Formula 1 racing games for eleven years. The game is popular with gamers. But it is not a realistic motorsport simulation.
If you love racing games and Formula 1, you can buy Codemasters' new Formula 1 game every year. The British team from Birmingham has been developing the top-class game since 2009 – a game every season. But how realistic is it now?
F1 2019 receives the most criticism in the field of driving physics. In Bahrain, for example, we can ride on the sand without any loss of grip. In addition, the grip with cold tires is far too good. We feel a difference between warm and cold tires, but it is far too small.
F1-Insider.com now also has its own F1 2019 leagues! The races are on Wednesdays and Sundays at 7:30 p.m. You want to be there? CLICK HERE
In general, the vehicle behaves differently from a real Formula 1 car. In real formula racing cars, drifting is poison for the rear axle. But in F1 2019, a slight drift brings the crucial extra tenths of a second. The rear tires hardly overheat. Instead, we can safely take corners one to two gears lower than the real Formula 1 drivers. The powerful torque excellently balances the video game speedster around the curves.
But not only on the track, there are also a few disturbances in the pits. In the pit lane, the player is only a passenger. The autopilot controls everything. We only drive through the pit entry and exit.
Codemasters should also revise the damage model. Front wings and tires can be broken. The other vehicle parts, apart from short-term failures of DRS and ERS, are indestructible. The rear wing, side box and Co. hold even at an impact speed of 300 km / h. Unsuitable that Codemasters calls the most sensitive damage setting "simulation". The developers should take over the damage model from the in-house game Dirt Rallye 2.0. It is very detailed and realistic.
BUT: F1 2019 is nevertheless an outstanding racing game, just not a realistic simulation like iRacing or Assetto Corsa. Neither does Codemasters claim to be one. They want to make the game as tasty as possible for Formula 1 fans, not just the hardcore Simracers. That's why the game is rather simple in so many areas.
However, Codemasters is on the right track. Every year the game is improved in all areas, they respond to the wishes of the fans. This is shown only in the current part, in which Formula 2 racers and driver changes are integrated into the career.