On Sunday, 20 years ago in Silverstone, Michael Schumacher broke his tibia and fibula. ABMS and F1 Insider reporter Ralf Bach remembers:
In 1999 everything seemed to be set for another successful outcome for Michael Schumacher at the British Grand Prix in Silverstone. After Ferrari had finally caught up to McLaren-Mercedes, Schumacher was on his way to his third World Championship title.
The season had already begun with a Ferrari victory. Eddie Irvine certainly benefited in Melbourne from both McLaren's and Schumacher's failure, but the Irish had no problems with that. After his victory, he had plenty of time to work on the Playboy image. In the evening during a photo session, Irvine was seen holding up beer cans and two Australian beauties in his arms. That alone, however, didn't make him a reputable title contender.
After two victories in Imola and Monaco Michael Schumacher already turned the tables on his teammate. This was in addition to a second-place in Brazil, a third in Spain and a fifth in France after having problems with the electronics.
Hence, in Silverstone, the eighth race of the season, the German was well-positioned with just eight points behind world champion Mika Häkkinen, who had won three races since then. The world looked on Schumacher to bring in another victory.
But just one minute into the race the world couldn't believe their eyes. F1 boss Bernie Ecclestone was visibly shaken. For the first time after his bypass surgery three weeks earlier, the 68-year-old was back in the field – staring petrified on a small screen in the hospitality bus of his caterer Karl-Heinz Zimmermann.
Like all of us, Ecclestone saw a red car flying over the gravel and drilling itself into a pile of old tires at an almost right angle.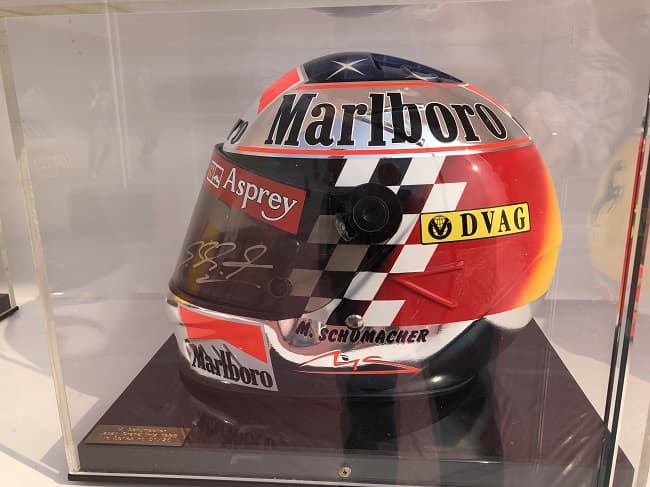 Racers call such accidents a "Big Bang." The victim, so much was clear, was Michael Schumacher. When he was carried on a stretcher to the ambulance car, he signaled the crowd with a hand gesture that he was fully conscious.
Nevertheless, the diagnosis at the Northampton hospital was staggering: Fracture of the tibia and fibula. The shock was deep.
Later investigations revealed that the crash was due to a human error. A Ferrari mechanic had forgotten to tighten a screw causing brake fluid to leak. The result: braking failure.
Now all efforts and the burden rested on Michael Schumacher's wife Corinna.
"She was having a hard time when I was lying on the sofa for weeks, and my leg wasn't following my orders," recalled the then-32-year-old, who was forced into idleness for three months.
"I wanted to get up, move and train. I just wasn't made for resting on a sofa."

On the other hand, according to Schumacher, it was nice to
"suddenly have so much time for the family and be a normal family man."
Still, as his forced F1 abstinence continued, he became increasingly restless:
"I told myself, you have to train now so you can get fit as soon as possible." Unfortunately, he did too much for his own good. Two comeback attempts had to be canceled due to complications.
"I learned the hard way that you can't force anything, neither privately nor at work, so I changed my training."
In Malaysia, at the penultimate race of the season, he finally returned to his Ferrari.
While he would present Eddie Irvine a victory, he would nevertheless dominate the action at the Sepang International Circuit showing the world that he was back.
As a side note, Irvine's victory that day was far from certain. Stewards had found an irregularity on Irvine's car. Apparently, they had detected that the wind deflectors were too large by five millimeters. Irvine's victory was only confirmed a week later when the supreme automotive authority (FIA) overruled the stewards after their own experts applied the appropriate measuring procedures.
Thus, Irvine lay four points ahead of Häkkinen in the championship fight before the final race in Suzuka. But the Finn stroke back and won the Japanese Grand Prix ahead of Michael Schumacher, who at least did his part in helping Ferrari win the constructors' title.
Nevertheless, in Italy, the German faced accusations that he didn't sufficiently support Irvine, who came in only third in Suzuka.
Schumacher's answer: "Eddie had it in his own hands. He just had to go faster. Mika was just too strong."
*This article was first published in German at autobild.de/motorsport.