Four races, four times Ferrari the big favorite, and four times Mercedes wins. Valtteri Bottas leads the championship after his victory in Baku ahead of team-mate Lewis Hamilton. What makes him so strong this season and why at Ferrari no one is sticking their heads in the sand, yet.
Sebastian Vettel Believes in Turning Point
"Yes, we now had four double victories for Mercedes in four races," admits Ferrari team principle Mattia Binotto. "But our backlog is not as big as the scoreboard shows. We weren't miles away in Baku either. And I dare to say that we could have gotten the pole. It didn't work. In the race then, everything is fundamentally different, whether you are ahead in clean air or behind.
The Italian is far from falling into panic and has been analyzing Ferrari's situation. For him the pivotal point this season are the tires. "The work with the tires is very tricky this year," explains Binotto. "The operating window has become even closer."
Sebastian Vettel agrees with his boss and admits: "There is potential in the car, but unfortunately we can not always get the performance out of it everywhere. That's why it's hard to build proper trust. The feeling is just not right yet. It's like an oversized magic cube.
"We are already fast, but obviously we have to work even harder. Our car is not slow, but unfortunately, Mercedes is really fast. You just have to respect that they are phenomenally good. And it seems somehow easier for them to always get everything out of the car and the tires."
Ferrari's hopes now rest on Barcelona, the next race on the calendar. There, Ferrari was superior in the winter tests as the rough tarmac quickly brings the tires up to temperature. And with more new parts coming online, everyone at Ferrari hopes that they can finally unleash the potential of the SF90.
Three Things That Make Bottas Strong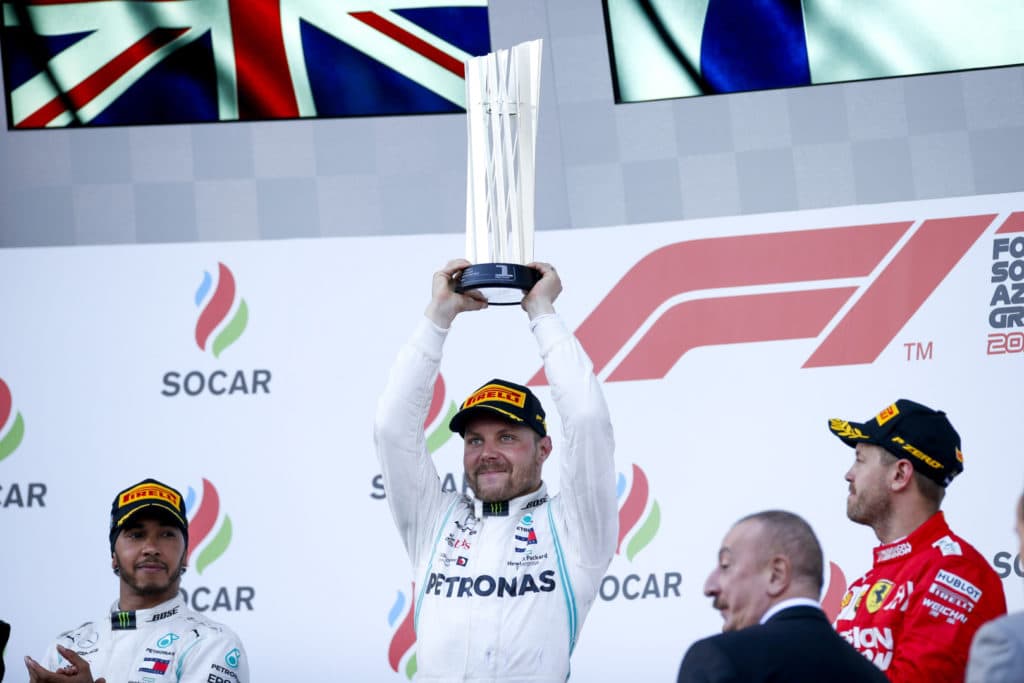 Someone who seems to get everything out of his car is Valtteri Bottas. After a difficult last season, he personifies a "new Bottas!" this year. Learning from defeats, drawing positive energies out of bad luck, recharging and going his own way. In short, these are the values that Mercedes driver Valtteri Bottas (29) wrote in his personal notebook before this season.
And they work. Of the four races so far, the Finn has won half and leads the championship in front of his teammate – and it's no other than five-times world champion Lewis Hamilton.
Learning From Defeat:
The last season was a disaster for Bottas. While Hamilton scored his fifth world-championship title with eleven victories, Bottas could not once stand on the top of the podium. At the race in Sochi where he led, he had to let his British teammate pass – team order! For any racer, the ultimate penalty.
Not only in terms of racing but also public and more importantly self-image. Bottas had to take massive criticism for it, and hardly anyone had still confidence in him. "I thought about that for a long time in winter," the Finn told us. "I knew it could not go on like this." He rested and did a detailed error analysis. "After that," Bottas said, "I knew where to start, and I wanted to improve in every area because I knew it was the sum of trifles that was missing, not a big chunk." It was also important to be at the top right from the start of the season, which I wasn' in 2018. "
Drawing positive energy out of bad luck:
In addition to Sochi, it was the race in Baku a year ago he should have won. But a punctured rear tire at the very end of the race prevented his already certain victory. At first, he could not believe his bad luck and hid in his hotel room. Later he revealed that he "cried like a little child" and felt he needed to drink "10 beers" to process the defeat.
As a matter of fact, ABMS and F1 Insider reporter was there when Bottas actually did wash away his frustration at the Hilton hotel bar. There he met former World Champion Jacques Villeneuve, his Finnish compatriot Mika Salo, and the F1 Insider reporter. He sat down at the table and spent three hours with the illustrative combo. Bottas mainly listened, but his mood clearly changed and it wasn't only because of the beer, but also because of the many funny stories, he heard that evening. When he said goodbye, he not only insisted on paying the bill but also thanked everyone for the great evening that helped him. For the race in 2019, he announced: "I still have an open tab here."
Going His Own Way
Over the winter he grew a full beard. It was a clear message to show what was going on in him: "I am now a new Valtteri and go my own way." In addition to the meticulous work in detail, this also included: "I have to think more about myself now – after all, you have only one career."
Right from the season start at the Australian Grand Prix this year, he followed up on his statements. Although the team did not want him to finish the fastest race lap at the end, Bottas he ignored the order and picked up the extra point for the fastest lap. That's why he is now leading the championship with one point ahead of Lewis Hamilton. It is this philosophy that will continue to pay dividends and that will make him stronger.
*This article was first published in German at autobild.de/motorsport.