It was not the race that Ferrari expected after such a dominant qualifying session the day before. Charles Leclerc in the lead experiences an engine failure – one of his six-cylinder engine just says goodbye. Worse still, Sebastian Vettel. And he is no one else to blame than himself. In a fight with Lewis Hamilton for second place the German spins without even touching – a beginner mistake!
Mercedes Wins in Bahrain After Ferrari Desaster
The lucky winner of Ferrari's miserable race day – Lewis Hamilton. Ahead of team-mate Valtteri Bottas he brings home the second victory for his team this season. Hamilton admits: "Charles did a fantastic job today, he should have won the race!"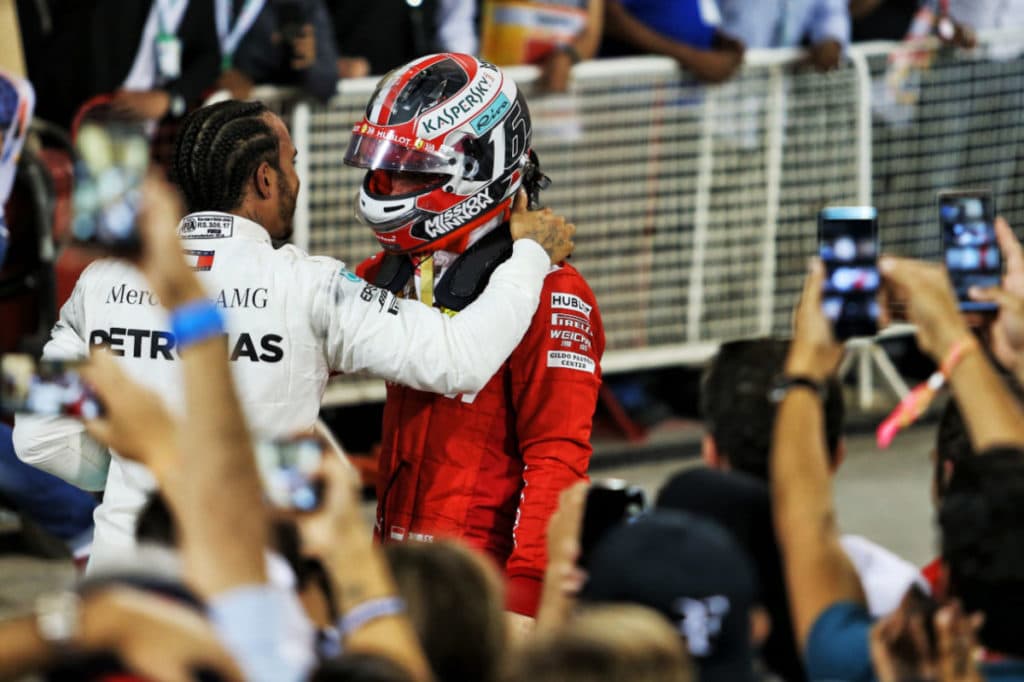 Charles Leclerc Bitter Sweet Experience
At least Charles Leclerc was able to drag his wounded SF90 over the finish line in third place. His car was missing 40 km / h on the straights. Leclerc: "A bitter day for us," says the Ferrari rookie. "The team did a tremendous job of making up for the lack of pace from Australia, we will come back even stronger. I don't want to look at the results but the potential." His teammate Sebastian Vettel commits a beginner mistake, spins and only achieves fifth place behind Max Verstappen.
What happened? At the start, everything looked fine for the German. Vettel had a better start than his teammate Leclerc, who started from pole position. While Vettel is the first to reach turn one, Leclerc must first pass Bottas. But in round two, the Finn misjudges the situation, Leclerc exploits this mercilessly and overtakes Bottas.
In lap 6, Leclerc signals via radio, "I'm faster, boys!" Then he overtakes Vettel on the start-finish line. The German apparently gives plenty of room. After that, he wants to counter but fails. A delicate scene between the two Ferrari.
Round 14: Leclerc and Hamilton come in for a stop at the same time. Vettel, therefore, stays out for a lap longer.
In lap 19, Hamilton slips off tracks after a gust of wind. Vettel closes up to 1.5 seconds.
In lap 23, Hamilton radioed, "The rear tires are through." Unlike both Ferraris, Hamilton is on soft tires. Vettel is now in attack mode.
In lap 24 he passes Hamilton thanks to DRS. Hamilton complains, "I'm a sitting duck." This is an exaggeration, after all, he can maintain his pace.
In lap 35 Hamilton picks up fresh tires for the second time. This time medium hard. Vettel comes in a lap later. Now Hamilton is in attack mode and has smelled blood. His first attack Vettel can still defend, but not the second. Then Vettel's nightmare: He spins without external influences. Worse, his front wing falls off. With a new front wing he drops to eighth place and finishes the race in fifth.
By contrast, Leclerc is now in the lead after his second stop and leading by ten seconds. But in lap 46 Leclerc reports a problem with the hybrid system (broken MGU-H). Hamilton is catching up within three laps.
In lap 49, Hamilton overtakes Leclerc. "Oh my god…," curses Leclerc, who is also caught by Bottas with only five laps to go. Curious: Three laps to go to the end and both Renault drop out almost at the same time with technical problems. It causes a safety car situation. Hamilton wins under yellow and Leclerc can be happy to have kept his third position.
Vettel Apologizes
Vettel apologizes for his mistake, but from the experts, he receives plenty of criticism. "Power oversteer, that was his mistake", judges expert Christian Danner on German RTL channel. Ex-World Champion Nico Rosberg also finds clear words: "Vettel continues where he left off last year and commits mistakes after pressure. He spins again in a direct fight, unbelievable -"
He continues: "This is exactly the same situation as last year. The team makes a mistake in qualifying, Seb gets annoyed and commits mistakes in the race. He has to get out of this now."
The Ferrari star admits: "I wanted to come back on the inside like a lap before, but then I lost the car relatively abruptly. My mistake! The conditions were tough, but that was the same for everyone. That conditions change behind a car, I should have known."
But that's not all. A little later he also drives over his own front wing. Consequential damage, as Vettel reveals: "I destroyed my tires so much after the spin that I had extreme vibrations, which led to the destruction of the front wing."
The whole weekend was a disaster for Sebastian Vettel. He even couldn't hold the pace that his teammate Leclerc had. "I didn't have the speed, it was harder for me than for Charles," he explains. "The potential is there, but we're still struggling to utilize it."
And Yet, Something is Different This Year!
But one thing is different compared to 2018. The team is still behind Vettel. Team Principle Mattia Binotto backs his German driver: "That was an unlucky race for Seb. He was second when he committed his error. Such mistakes can happen, duels are never easy, so it is understandable."
The Italian then also emphasizes: "There is no blame." Not against the technicians either. Because Leclerc loses his first victory to an engine problem. "I thought that a few laps later everything would explode," describes the Monegasque his situation in the car.
"That was not the case, but I just suddenly lost all power. Of course, I'm extremely disappointed, but we were also lucky (Renault technical problems). I'm glad the safety car came out." Because it saved him the third place in front of Max Verstappen.

Overall, Binotto emphasizes: "We have to look at the positive from this race and next time come back even stronger."