At Servus TV Sebastian Vettel felt like the prodigal son returning home to Red Bull. A column by Ralf Bach
For Sebastian Vettel (33) the show came at exactly the right time. One day after the disastrous season opener in Spielberg, the still Ferrari driver was the star guest on Monday evening on Red Bull's Servus TV "Sport und Talk". And Vettel visibly enjoyed being back home with Red Bull.
READ MORE: Webber calls – Vettel to Red Bull!
Red Bull's employees Max Verstappen, Pierre Gasly and team boss Christian Horner only had supporting roles in a film which, from the whole atmosphere, would have deserved the name "Back to the Future IV" without much fantasy.
Vettel chatted casually about his current state of mind, how he enjoyed life with his family during the Corona break. But he also repeated: "I was surprised by the call from Ferrari announcing the separation. The previous communication was more like 'We want to continue with you'."
You didn't even have to look closely to see: The man from Heppenheim felt as comfortable in his old home as a temporarily lost son for whom the family had prepared a great celebration for his return. That was THE Vettel again, who had won four world championship titles with total faith in himself, because he was just allowed to be himself. The Ferrari T-shirt he was wearing was the only sign that the present was not rosy for him – it looked like a red rag.
From the next race, Vettel will be racing for his future
Even if it's not yet that far: On a purely emotional level, the course has been set for a return to Red Bull since Monday evening. The fact is: from the next race in Spielberg on Sunday, Vettel will be racing for his future. The key data are clear. Vettel on F1-Insider.com: "I will continue if I still see a point in it. It's not about money or chances of winning. It's about finding an environment, a job that I feel comfortable with." Even a blind man could see, that this description fits perfectly to Red Bull.
A year off and then coming back he rules out at the moment: "When the doors are closed, you should keep them closed."
Let's move on to the present: Vettel is still under contract at Ferrari. The problem is that he has lost confidence in his car. Vettel: "On Friday everything was fine. I felt good, I was faster than Leclerc. Even on Saturday morning everything was still in the green zone. From qualifying on, nothing worked. I did not recognize the car any more. Unfortunately, that continued throughout the race."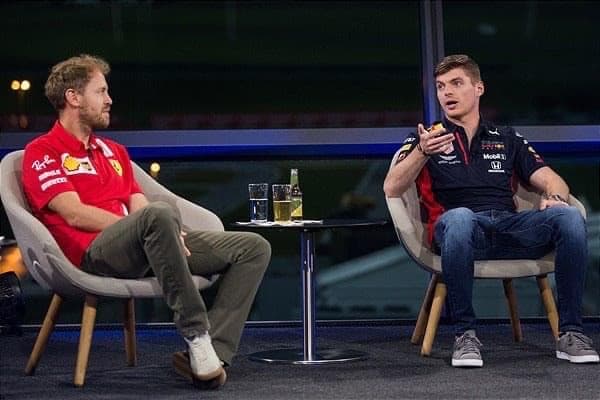 Vettel is self-critical: "The spin was clearly my fault. There are no excuses. All I can say is that with Friday's car, this wouldn't have happened. I'll have to look at the data now to understand what happened."
If the SF1000 is not running smoothly again in the race this Sunday (also at the Red Bull Ring), Vettel might have to react. But what are the options for honorably fulfilling the contract with Ferrari without completely ruining its image?
Alternative: swap with Carlos Sainz
The logical alternative would be a swap with Carlos Sainz. The McLaren driver has a Ferrari contract from 2021 and drove solidly (fifth place) at the season opener in Spielberg. But anyone who followed the race closely knows that Sainz already has Ferrari on his mind. He fought more aggressively against his current team mate Lando Norris than against his future Ferrari partner Charles Leclerc
An exchange would only have advantages: Ferrari would get rid of its rebel Vettel and would already have its dream driver for 2021 in the team. McLaren, on the other hand, would have Sebastian Vettel as a driver who, with the appropriate feel-good factor, could perhaps even win.
This is not totally unrealistic, because F1-Insider.com has learned: Vettel suggested the current McLaren team boss Andreas Seidl at Ferrari two years ago. The Italians rejected him. What Michael Schumacher was granted in the 1990s when he brought his Benetton-specialists to Maranello with Ross Brawn and Rory Byrne, was denied to Vettel. But in the current situation this also means that Seidl and Vettel trust and respect each other. A good basis for a spontaneous driver change.
The problem for Vettel: With the official arrival of Fernando Alonso at Renault, it would make more sense for McLaren to get its 2021-driver Daniel Ricciardo (still at Renault) into the orange racer already for this year – especially in case Renault wants to promote Alonso into its own car already this season.
And 2021? For Formula One as a whole, a comeback for Vettel at Red Bull would be a win-win situation. In any case, Red Bull's TV station Servus TV has already made a start on the return of the prodigal son …
Translated with www.DeepL.com/Translator (free version)