Sebastian Vettel finished fourth at the Spanish GP. The big surprise was Ferrari's race strategy highlighting their drivers' rivalry.
Ferrari's Spanish Grand Prix Campaign
The question was meant seriously. Whether Ferrari was afraid that Mercedes could win all races in 2019. This question was posed by one of the journalists at Ferrari's motorhome and it was directed to all, Ferrari team boss Mattia Binotto, Charles Leclerc and Sebastian Vettel.
Vettel opened the round with a clear NO. Binotto and Leclerc copied the statement of the German. There was a clear consensus, even if the team-internal duel on the track slowly makes everyone doubt.
If one didn't know better, one could have believed the mood was excellent. At least that's how good the media performance was on their three swivel chairs. But the reality is, Ferrari moves from one crisis to the next. In Barcelona, the speed was missing again – and the strategy was more than questionable.
Binotto didn't talk around the bush: "We are disappointed with our performance," he confirmed.

"We've expected more from our updates, even though they work well. Our top speed is good, but we still have a few flaws, which we now have to understand," Binotto continued.

The fact is: Vettel and Leclerc fought for third place with Max Verstappen. The Mercedes was out of reach. Binotto:

"We lose in every single corner because of understeer. It's not just about downforce but more. It's about tire management, balance and maybe even car concept. But we still have no answer to that."
May it as it be, the pressure from Italy is growing. Also, because of the fact that the team strategy appeared uncoordinated from the outside.
Twice the Ferrari stars had to swap places. Twice, after they had already lost valuable time fighting each other and destroying their tires in the process. Yet, the team boss didn't want to accept the criticism:

"We try to optimize our team result," he told reporters.

"Should we have done that earlier? Well, you always need a little time to sort out all eventualities – and also if the driver is really faster behind. In the second exchange, Charles fought on an alternative strategy with Max. Again, we had to make sure he didn't lose any time. We just waited for the right moment," he clarified.
But that's not all: both cars had a faulty wheel nuts on the left rear during the pit stop. Another two seconds gone.
Denn der Brite kam als Erster aus dem Kurvengeschlängel.Aufgeben liegt aber weder in Vettels noch in Ferraris DNA. "Kompliment an Mercedes", sagt Binotto. "Sie machen es uns wirklich schwer. Aber wir können auch hart arbeiten und wir geben nie auf. Das ist unsere Herangehensweise."Vettel motivierte sein Team schon am Boxenfunk: "Ich weiß, dass es weh tut, so weit zurückzuliegen, aber lasst uns daran erinnern, dass wir etwas tun, was wir lieben. Danke an alle. Forza Ferrari."
Also, Sebastian Vettel didn't have his best day. At the start, the German braked too hard:

"We could have had a stronger first stint," he admitted, "if I hadn't had any vibrations in the brake plates. As soon as I had free rein, the car felt good and we had about the same speed as Red Bull. Without the brake issue it would have been a close race." Vettel explained his situation.
" I wanted to brake last but Valtteri was also very late. If I had just turned in, Valtteri wouldn't have had space and we would have touched each other. In the end, I did Lewis a favor with it," Vettel continued explaining the start. Because it was Hamilton who profited from this initial confusion in the first turn the most.
Nevertheless, it's not in Ferrari's DNA to give up that quickly: "A compliment to Mercedes," told Binotto the journalists.

"They really make it hard for us. But we can work hard and we never give up. That's our approach," Binotto emphasized.
Vettel already motivated his team via team radio: "I know it hurts to lie so far behind, but let's remind them that we're doing something we love. Thanks to all. Forza Ferrari sempre. "
Ferarri Barcelona Qualifying
Sebastian Vettel had to settle for third place in Barcelona qualifying and Leclerc was only fifth (P5) behind Verstappen (P4). The gap to Mercedes is alarmingly high.
Certainly, Sebastian Vettel (31) had different expectations after the many updates and the new engine upgrade at the Spanish Grand Prix. Nevertheless, third place in qualifying was less of a disappointment than acknowledging the big gap to Mercedes, especially to pole-setter Valtteri Bottas.
More than eight tenths, that's a whole universe in Formula 1. What is most astounding is, that most of the time was lost on just one kilometer of the track. In the last sector, the German lost most of the time to the Silver Arrows. Vettel tried to remain positive:

"Of course, eight-tenths of a second is a lot for this relatively short distance, but we lost time in every corner from the tenth to the fifteenth. Obviously, we still have a lot of homework to do, because we don't have the grip in corners."

"The car did not feel bad," continued the German.

"Obviously, that was not enough, I think we got the car balance pretty good, even though I had a bit more understeer than the Mercedes guys, we just lacked grip, and we were clearly faster on the straights, but of course there aren't any in the last sector. "
The Only Positive:
Vettel put his young defiant teammate Charles Leclerc into place. At least this weekend here in Barcelona, the German doesn't have to deal with the often less than "amusing" Italian headlines that have been shooting at him non-stop. They have been demanding a #1 status for the young Monegasque in a flowery language instead of making the more experienced world-champion the lead driver.
In this respect, it will be difficult for his crafty manager Nicolas Todt to put his protégé into an advantageous position within Ferrari – at least for the moment here in Barcelona. Nevertheless, how long Vettel will want to deal with this internal power struggle is an open question.
From a performance perspective, it looks outright gloomy at Ferrari. Hardly anyone among the experts within the paddock still believe that Ferrari can catch up with Mercedes this season. Also because the problems seem bigger than the Scuderia openly wants to admit. In this regard, there are doubts among experts surrounding the unusually early engine upgrade was actually voluntary (this was the second one – only three a year are allowed).
For former Mercedes engine chief Mario Illien it doesn't make any sense. The Swiss to ABMS and F1 Insider:

"In Barcelona, you have almost no performance benefits with a new engine, so you only do that in Barcelona only if you have had problems with your previous engine, such as reliability issues that can only be solved with a new engine upgrade."
Ferrari Friday Practice
In practice, Ferrari was clearly behind Mercedes in Barcelona on Friday. Sebastian Vettel still not happy with the performance. Team boss Mattia Binotto remains confident.
What a difference two months can make. At the winter tests in Barcelona Ferrari was still in the lead and season's favorite. On the first day of practice here at the first European GP in Barcelona, Ferrari is behind Mercedes.

>>Bottas dominates Friday: Both Mercedes in front<<

Sebastian Vettel was four-tenths of a second behind leader Valtteri Bottas: "We have done what we always do on Fridays, but we may not feel quite as good overall," commented Vettel after practice.

But there are also bright spots. Ferrari's updates, especially the new engine, seem to work as planned.

"It all seems to work fine, we're satisfied with that, but of course Friday is also day to find out how good the speed is – and it was not as good as we had hoped for today," Vettel continues.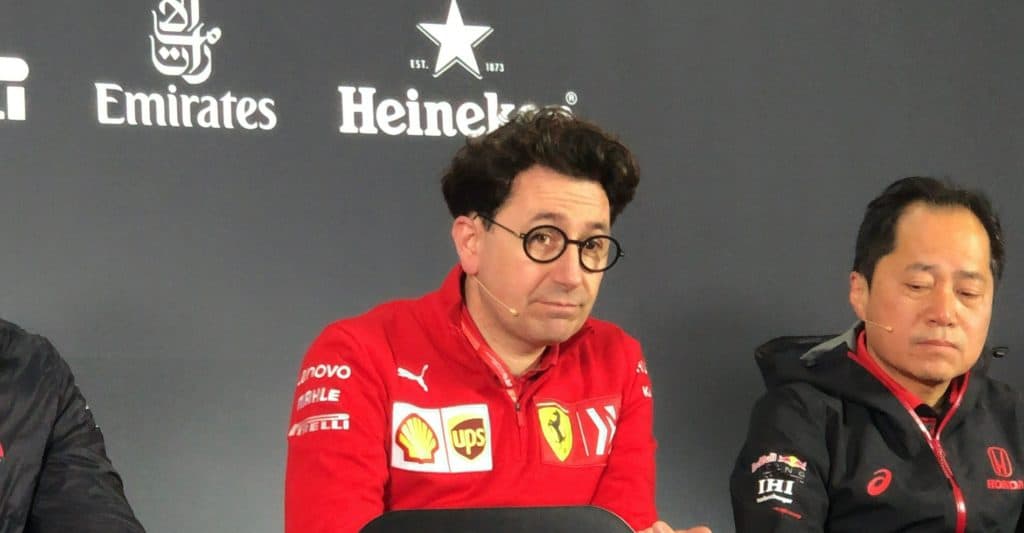 Ferrari installed new front and rear wings and also an enlarged backfin.
"Of course, Friday is only a snapshot, tomorrow we will all lay our cards on the table, but I think we have to improve even more," Vettel summarized

In the meantime, Ferrari team boss Binotto wasn't surprised by Mercedes strong performance.
"We knew after the last day of testing that Mercedes would be very strong and we've both developed our car since then and now it's certainly not the same cars anymore," Binotto comments.
"The weather conditions are completely different. The heat, too, is definitely a factor that makes all the difference here. So, I don't think you can compare it to the test drives we had this winter."
Nevertheless, the rough tarmac in Barcelona should suit Ferrari. The Scuderia has problems with getting their tire warmed up this year. Pirelli Chief Technology Officer Mario Isola admits:
"The tires will work this year at a higher temperature range."
That, in turn, really helped Mercedes so far, who last year struggled with too warm tire temperatures. Especially Ferrari, Red Bull, and Haas suffer from the new tire characteristics with a carcass that heats up less. Overall, the Ferrari team boss remains confident:
"So far we have left points on the table relative to our potential and therefore cannot be completely satisfied with the start of the season. However, in light of the overall performance, it still isn't a big drama. We still have a good car," Binotto clarified.
And one more thing should give Ferrari confidence: Their two pilots know the course in Catalonia blindfolded as a funny video that Ferrari published on Friday proofs:
*This article was first published in German at autobild.de/motorsport.