Surprisingly, Ferrari starts at the Spanish GP with a new engine. Team Principal Mattia Binotto explains the upgrade.
It's serious for Ferrari! The Scuderia must force a turnaround in Barcelona this weekend if they ever want to uphold their chances against Mercedes after their four double victories. And their prospects aren't that bad.
But that's not all: Ferrari will present an engine upgrade already in Barcelona. Originally, this upgrade was scheduled for the Canada GP in June. However, team principal Mattia Binotto explains: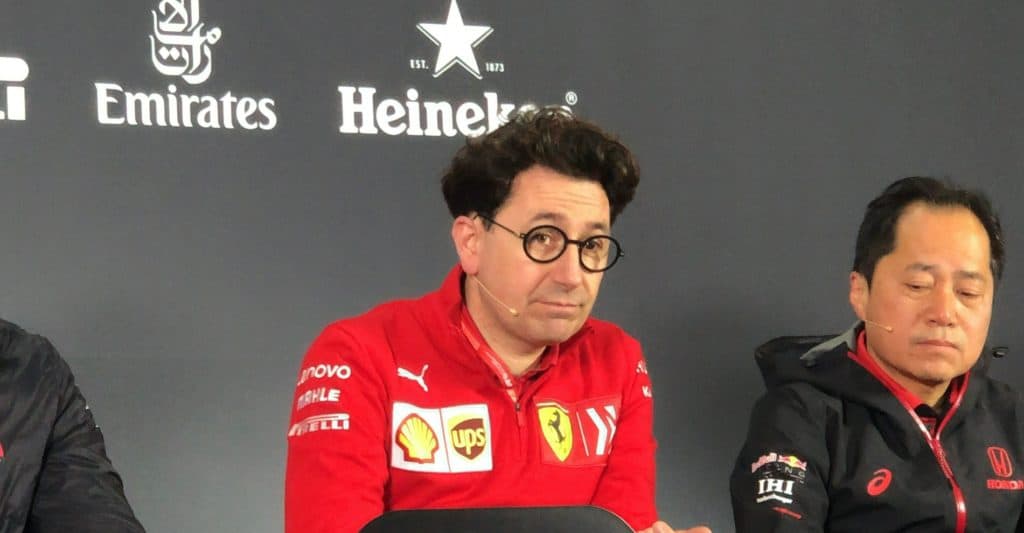 "Barcelona is the race where almost all teams will bring some significant improvements, so we expect our opponents to have taken a step forward. We are behind in the championship fight and need to catch up. The key to success all through the season lies in development. We have changed the development a bit and we bring a new engine upgrade to Barcelona."
Last winter, Ferrari tested over 15 race distances in Barcelona and was considered the season favorite right from the start. The race track in Barcelona, which has been on the calendar since 1991, should suit Ferrari due to its rough asphalt.
To support Ferrari's development efforts, fuel partner Shell is supposed to supply an improved version of the fuel that is produced in the laboratories in Hamburg, Germany. Together, the engine and petrol mix should generate about ten horsepower more according to ABMS and F1 Insider sources.
Ferrari Upgrades for Sebastian Vettel & Charles Leclerc
Recall, a new aerodynamic package was already launched at the Azerbaijan Grand Prix in Baku. But in Barcelona, we can expect more upgrades in this area as well. Already in China, Binotto announced a new rear wing for coming races, which is supposed to bring more downforce. This new rear wing could be introduced in Barcelona this weekend.
Meanwhile, there is also a new theory why Ferrari has problems to manage their tire temperature this season. The new tires with their 0.4 millimeters thinner tread also have a carcass. This causes them to warm up less than the previous year.
While Mercedes already had to deal with tire overheating in 2018, Ferrari was able to manage their tire temperature well. Hence, Ferrari has problems this season, while Mercedes doesn't. Nevertheless, the rough asphalt in Barcelona, the ​​sun and more downforce should finally let the extremely efficient and powerful Ferrari engine shine due to achieving the perfect tire temperatures.
Renault is reported to bring their engine upgrades to the Spanish GP as well
*This article was first published in German at autobild.de/motorsport.