Just over eight months and one week after the lights went out in Melbourne to signal the start of the campaign, the 2019 season comes to an end in a few days' time in Abu Dhabi at the season's only day/night race.
And what a battle it's been. Twenty-one races, five different winners to date, eight different podium finishers, seven different drivers with points for fastest laps and ahead of this weekend 22,550 amazing laps raced.
And the weekend at Yas Marina promises to be spectacular, not just because of the F1 cars in action on track but also because, for the first time ever, the Grand Prix will also feature a live auction of some of the most important and beautiful racing and road machinery ever built. And fans will have a ringside seat for all the drama…
This weekend in Abu Dhabi, Formula 1 and RM Sotheby's will bring together some truly legendary F1 cars and a carefully curated selection of rare and desirable supercars for an incredible auction. And prior to Saturday evening's live sale on the F1 grid, fans will have the chance to get up close and personal with some of the finest machinery on four wheels, including a title-winning ex-Michael Schumacher Ferrari F2002, as Formula 1 Director of Hospitality and Experiences Kate Beavan explains…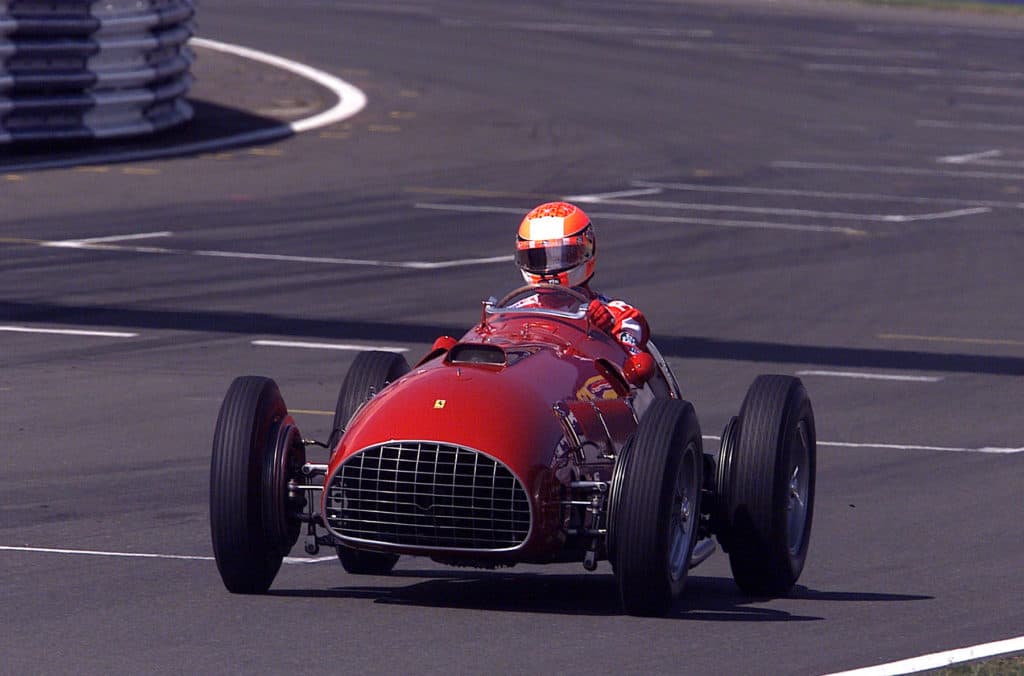 This weekend F1 will team up with RM Sotheby's to host the first international collector car auction in the region at Yas Marina. Can you explain why classic cars and F1 are a good fit?
We have a hugely passionate audience. They are obsessed with Formula 1 machinery but our research also tells us that they are passionate about all kind of automobiles. They live and love race cars and road cars – sports cars classic cars, single-seaters, prototypes, everything – so it seemed a very natural fit to bring a very upmarket classic car auction to Formula 1 races. And in order to do that in an F1 way we had to seek out the best and RM Sotheby's is probably the world's premier high-end car auctioneer.
The benefit for us is that not only are we able to bring the glamour of F1 together with the rarefied world of high-end car auctions but we are also able to bring these incredible cars to races as part of our fan experience.
How will the cars add to fans' enjoyment of the race weekend?
One of the key features of how we organised this auction is that we have agreed with RM Sotheby's that the cars will be displayed at the circuit in the F1 Fan Zone.
The easiest thing for us to do would have been to stage the auction off-site in a fairly sterile convention centre type environment where wealthy clients would go to buy a car. But that would be to diminish the beauty and value of these cars. We wanted this sale to celebrate these iconic machines and to provide fans at the race with the chance to really enjoy them.
With that in mind, we have embedded the auction and the cars themselves into the Formula 1 event. Even if 99% of us can only dream of buying one, we want fans to be able to see these cars, to get up close to them and to enjoy their rarity. And we have some truly special cars on show.
What kind of machinery can fans expect to see?
Well, top of the bill has to be the ex-Michael Schumacher and Rubens Barrichello's World Championship-winning Ferrari F2002. This is one of the most successful cars in F1 history; with Schumacher marching to his fifth title win at the French Grand Prix, with six races in hand. The car on sale won at Imola, Zeltweg, and sealed the title with victory at Magny Cours.
We also have a 1990 Ferrari F40, which was signed by Sebastian Vettel at the launch of this partnership with RM Sotheby's earlier this year at the Bahrain Grand Prix.
There's also a Jaguar C-X75, one of just four made, which featured in the James Bond film 'Spectre', as well some spectaculars cars from some of the world's most famous hypercar manufacturers such as McLaren, Koenigsegg and Pagani. Every one of the cars on sale is unique in some way.
And on Saturday they'll be sold?
Yes. The cars will be displayed behind the main grandstand in the F1 Fan Zone on Friday and all day Saturday. Then, on Saturday night, the cars will be lined up on the grid under lights and we'll hold the auction live. Formula 1 will be filming the event, too, so fans will be able to enjoy the action. The reserves on some of these cars extend beyond $5m so we expect plenty of drama as the bids come in. It promises to be quite spectacular and, after all, spectacle is what Formula 1 is about.
The car sale is obviously beyond the reach of almost everyone who'll see the cars, but there is a way for us regular folk to get a taste of the action isn't there?
Absolutely. There is a huge amount of amazing Formula 1 memorabilia being auctioned online. Fans from anywhere in the world can bid and there are some wonderful pieces available, including helmets from Ayrton Senna, Michael Schumacher, Kimi Räikkönen and Nelson Piquet, as well as race suits, gloves, steering wheels, car nose cones and even a Ferrari F2002 engine!
This is the first F1 / RM Sotheby's event. Are you already planning for 2020?
We've got an extensive race calendar and it's a question of agreeing between us which events might be a success. Formula 1 has some amazing locations – Monaco, Monza, Singapore, Montreal, Mexico City – that we're almost spoiled for choice but yes, we are already talking about two more events in 2020.
And that means fans will get the chance to see a host of historic race cars and incredible supercars in the future?
Yes. We hope that events such as this really enhance the whole experience of being at a race, for the fans attending the race all the way up to the premium VIP guests. When people come to a Formula 1 race we want them to experience something amazing and unique – not just on the track but in every aspect of the Grand Prix weekend. We want them to go home thinking 'wow, that was an incredible experience, when can I go again?'
The Information Lap
It's the final race of the 2019 season and it brings with it an important milestone for this year's champion and for two drivers for whom this weekend at Yas Marina looks like being their last in F1 for the moment…
Lewis Hamilton is set to make his
250th Grand Prix start in Abu Dhabi.
With 83 wins so far Hamilton has a 33.33% win record. As a comparison Jim Clark recorded 25 wins from 72 starts for a win rate of 34.7%, while Michael Schumacher scored 91 wins from 306 starts giving him a rate of 29.7%.
Sunday's race will be Hamilton's 140th start for Mercedes, with whom he has scored 62 wins.
This weekend's Abu Dhabi Grand Prix will be Nico Hülkenberg's 177th Grand Prix start, and sadly, it looks like being his last for the foreseeable future.
The German, who is currently without a seat for 2020, made his F1 debut at the 2010 season-opening Bahrain Grand Prix with Williams. In his rookie season he scored the only pole position of his career to date, at the Brazilian Grand Prix.
With no seat available for 2011 Hülkenberg spent that season as a test driver with Force India before claiming a race seat at the team in 2012. He switched to Sauber for a single season 2013 but then returned to Force India for three years before moving to Renault in 2017.
Nico has finished as high as fourth on three occasions (Belgium 2012, Korea 2013 and Belgium 2016). He has so far scored two fastest laps (Singapore 2012 and China 2016) and currently has 511 championship points to his name.
Sunday will be Robert Kubica's 97th F1 start and again it's set to be the Pole's final Grand Prix for the foreseeable future as he prepares to part company with Williams at the end of the season.
Kubica made his race debut with BMW Sauber at the 2006 Hungarian Grand Prix. He spent the following three season with BMW, during which he scored his only pole position (Bahrain 2008) and his sole F1 win (Canada 2008). When BMW departed the sport at the end of 2009 he switched to Renault but prior to the following season a serious rallying accident derailed his career.
He completed a remarkable comeback by joining Williams this year and scored a point at the German Grand Prix. In all Kubica has one win, 11 other podium finishes, one pole position, four front-row starts, one fastest lap and has scored 274 points.
Charles Leclerc currently has seven pole positions in 2019, meaning that whatever happens this weekend he'll end the season with the most starts from the front of the grid.
This year Leclerc started from pole in Bahrain, Austria, Belgium, Italy, Singapore, Russia and Mexico. His closest rival is Valtteri Bottas who has scored five poles so far this year.
On Sunday Kimi Räikkönen will become
Formula 1's second most frequent starter, as he takes part in his 312th Grand Prix.
The Finn will pass the 311 races of Fernando Alonso and edges closer to Rubens Barrichello's record of 322 starts.
Räikkönen's 312th start, which will be made with Alfa Romeo, will come 6846 days after his first, with Sauber, at the
2001 Australian Grand Prix.