Mercedes set itself a monument in Formula 1 yesterday. Seven at one stroke, seven world championship titles in a row. No team in the history of Formula 1 has ever achieved this. Anyone who thought that Michael Schumacher and Ferrari had set the bar too high with six Constructors' World Championships from 1999 to 2004 was taught a better lesson. 2014. 2015. 2016. 2016. 2017. 2018. 2019. 2020. Each time a Mercedes driver became (will become) world champion. And each time the Silver Arrow team also won the team cup.
More to read – Ecclestone: "Schumi's story cannot be repeated"
And yet the biggest news on Sunday after the Emilia Romagna Grand Prix was Lewis Hamilton's thought of ending his career this year. When asked about the future of Mercedes team boss Toto Wolff, the British soon-to-be-record world champion merely countered with the statement: "I don't even know if I'll still be in the team next year, so I'm not thinking about that right now."
With his honest statement, Hamilton triggered a media chain reaction that put the actual team performance of the day far too much in the shade. First of all, his answer is only logical. The six-time world champion does not yet have a contract for 2021, so he does not know whether he will still be driving next year. And secondly: Lewis would be crazy not to continue!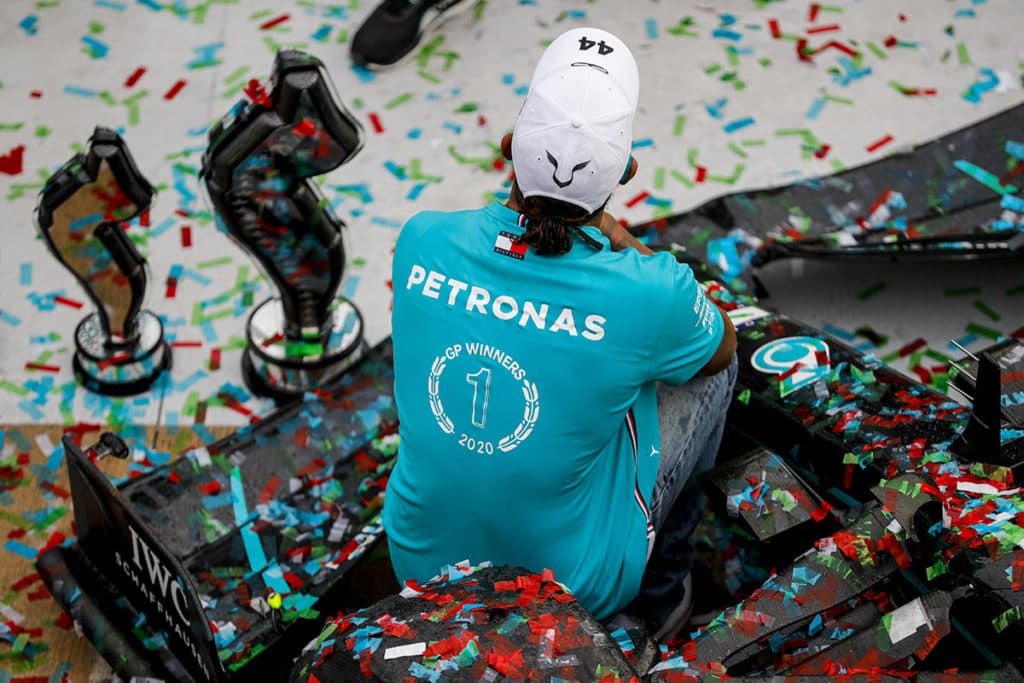 The Englishman is very likely to win his seventh World Championship title in 2021 and to draw level with record champion Michael Schumacher. After that, the eighth World Championship pot is tempting – and that has been Hamilton's goal for quite some time. I know that, because spontaneous reactions are the most honest. And in an interview that I conducted with him in 2015 without words, just facial expressions and gestures, Lewis "answered" my question about his final goal with eight fingers. All right?
2021 is a more than realistic goal. Because despite seven glorious years and a team boss whose future is as uncertain as that of his star driver, the Mercedes AMG F1 team is at the height of its creative power. And the curve is far from flattening out.
The black Silver Arrow drives superiorly. The hybrid drive train remains by far the best in its class. And the team is not leaning back despite its success. The proof: At the moment of their greatest triumph, Wolff is already thinking about the next race in Turkey in front of running cameras. This is the wood from which the Mercedes dominance is carved. And that is the reason why no other team has a chance against the German-English mega-combination.
That should also be the case in 2021. The rules remain the same, the possibilities for further development are limited, the Mercedes error rate is low thanks to a culture of "tough love". While elsewhere there is a climate of fear, in Brackley the team is working in a highly professional manner with aircraft construction methods, where every defect, no matter how small, must be unconditionally clarified.
Together with Niki Lauda, Toto Wolff has formed a super team based on what Ross Brawn and Michael Schumacher have handed over to him. Where one cog engages the other. And where the clockwork won't hook, even if the Viennese should retire from active business as CEO and move up to a supervisory board.
Of course, Hamilton knows that too. So when the Briton questions his future, he's more likely to play a negotiation double-pass with Toto Wolff than to honestly think about an early end to his career. They say: You should stop when it's at its best. For Hamilton, this moment should only be reached when he has the eighth title in his pocket.
Translated with www.DeepL.com/Translator (free version)
Follow us on Twitter!