Mercedes team principal Toto Wolff revealed how special a home victory and a sixth doubles victory for Mercedes would be.
It's a home race for Mercedes and a very special one at that: The car manufacturer based in Stuttgart is the main sponsor of the German Grand Prix and on top of that, it's their 200th Formula 1 race.
In addition, the brand with the star celebrates 125 years Mercedes-motorsport. To commemorate such an auspicious occasion, both cars have a special white silver arrow retro look!
Even the Mercedes Motorhome underwent a redesign displaying huge posters to remember the history of the Silver Arrows but also to proclaim their future. No wonder that Mercedes competition has already hoisted the white flag for this coming race weekend.
Red Bull's chief advisor Helmut Marko (76) disillusioned but with admiration at the same time told us:

"Since the introduction of hybrid engines, Lewis Hamilton and Mercedes are the most superior team that has ever existed in Formula 1."
In fact, the current Mercedes dominance is unique. The team is heading for its sixth constructor's title in a row. Only Ferrari managed the same from 1999 to 2004. But Mercedes is also on the way to achieving its sixth driver title in a row.
Even Ferrari with Michael Schumacher wasn't that successful. Toto Wolff (47) to ABMS and F1 Insider:

"No team has ever managed to win six doubles in a row – and it motivates us enormously. At the same time, we don't compare ourselves to other teams. We have the greatest respect for the accomplishments by Ferrari under Jean Todt."

Mercedes is already more dominant than Senna, Schumacher or Vettel in the years of their greatest success!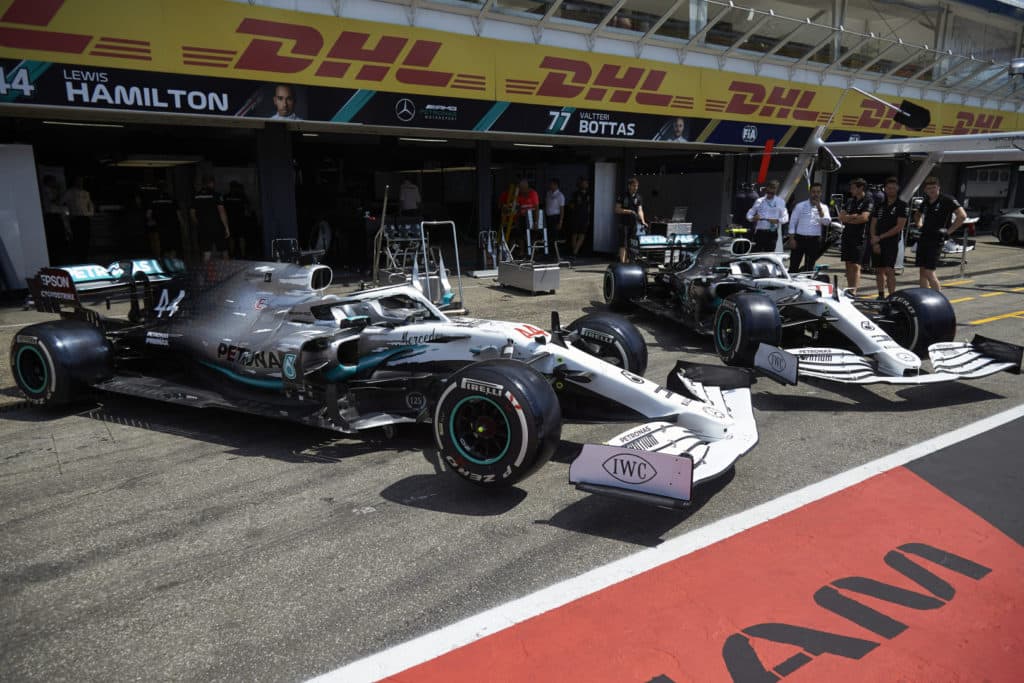 McLaren won 60.9 percent of all races from 1988 to 1991 in a record-breaking series with Ayrton Senna at the wheel. It was an astounding achievement at that time winning 39 victories in 64 GP. 26.6 percent of all Grands Prix ended with a double victory.
The Ferrari era with Michael Schumacher was able to top that from 2000 to 2004: 67.1 percent of all victories went to the Scuderia. 57 wins in 85 races. In addition, 27.1 percent of all double victories. But this impressive record didn't last.
Since 2014, Mercedes has won 84 out of 110 races; that's 75.5 percent. There were double victories in almost every second GP (42%). This year alone, Mercedes has won nine out of the ten races – and is being criticized for it and at times rather harshly.
Yet, Wolff takes the criticism lightly:

"I think it's quite normal to always route for the underdog, and we all understand that the fans of other teams would rather see their team win. Our job, however, is to represent Mercedes as well as possible on and off the track."
The Austrian is, therefore "proud of our performance and, above all, the constant performance increase over the past five years. We are self-critical and always look for ways to improve. That's why we have days where we fail, days when we get stronger."
Wolff has three words that make Mercedes so strong:

"Modesty. Self-criticism. Passion."

For all those reasons, a victory for Mercedes at their own home race would be the ultimate reward for Toto and the whole Mercedes crew.

"Rationally we know, of course, that there are as many points to win in Hockenheim as in any other Grand Prix," admitted Wolff.

"Emotionally, a win at Hockenheim would have a very special meaning for us, of course."

Mercedes has been unbeaten in Hockenheim since 2014. At that time Nico Rosberg won, in 2016 and 2018 Lewis Hamilton. In 2017 there was no German Grand Prix.
*This article was first published in German at autobild.de/motorsport.