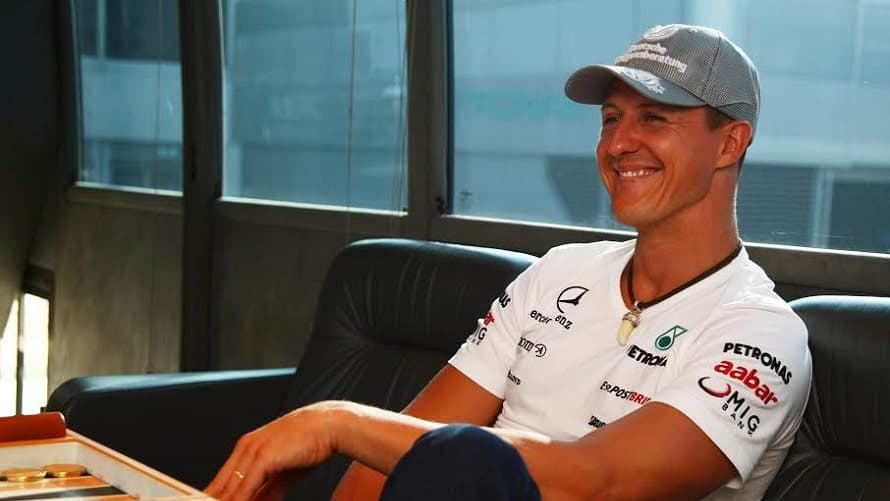 The Schumi News Ticker: The Latest On Michael Schumacher
+++ May 12: Michael Schumacher's life comes on the big screen! The documentary "Schumacher" about the record champion of Formula 1 will run in the cinema from 5 December, said the management of the 50-year-old and the makers of the film late Saturday night. It should also be seen never previously shown archive material.

Family members such as wife Corinna, father Rolf and his children Gina and Mick talk in interviews about the seven-time champion of the premier class of motorsport. "Michael's outstanding career deserves to be celebrated 25 years after his first of seven world championship titles," says Schumacher's consultant Sabine Kehm.

In 2012 Schumacher finally ended his F1 career. One year later, he crashed while skiing and suffered serious head injuries. Since then, Schumacher has been screened by the public.
+++ 6. Mai: Do you know the new Schumacher app "Schumacher the official app?" New features will be offered. For example, like in an avatar app, you can put on your favorite helmet by Michael Schumacher and share it on social media. Interesting for all car geeks: 50 cars from Schumacher's career can be admired in a 360-degree rotation with all the technical details. This all comes with Michael's radio communication snippets allowing you to feel like being part of his team. All proceeds of the app will be donated to the "Keep Fighting Foundation".
+++ 28. März: Ex-Ferrari president Luca di Montezemolo highlighted the special importance of Michael Schumacher for Ferrari's title series (Driver's World Championship 2000 – 2004, Team World Championship 1999 – 2004) in the official Formula 1 podcast.
Asked whether these successes would have been possible with a driver other than Schumi, Montezemolo answers: "I don't think so" – and emphasizes that he is even "convinced" that Ferrari wouldn't have been so successful with any other driver.
"Even in 2002, when we won the World Championships in Magny-Cours … Our car was so good that maybe others would have won it. But for reaching that level in the first place, Michael was crucial. My answer is that it would have been very difficult to achieve these successes without Michael," comments Montezemolo.
+++ February 1st: In an interview with the FIA F1 magazine, Mick Schumacher openly talked about his father Michael Schumacher: "I am proud that I am the son of the greatest Formula 1 driver of all time. And I admire him for that. And even if it's a bit difficult sometimes: it's the way it is." Schumacher junior also reveals how he came to racing. "Racing and karting are common activities in my family. I always loved to go karting with my dad. I enjoyed sharing those moments with him. At some point, he asked me if this was just a hobby for me, or if I wanted to make it a career. "The answer was obvious: "I told him straight that I want to race professionally. I never wanted to do anything else."
+++ January 25th:
The official Formula 1 streaming offer F1-TV shows a documentary about world champion Michael Schumacher. The film is called "Michael Schumacher: The Making of a Legend" and shows his career from teenage to the most successful driver of Formula One to date. Followers like Ross Brawn and Sabine Kehm, rivals like Fernando Alonso or David Coulthard, but also colleagues like Martin Brundle have their say. F1-TV is available in Germany for 2.99 euros per month.
+++ January 18th:
Michael Schumacher is still record holder of championships won in Formula 1. But how was Schumi in his private life? Quite differently, reveals Sabine Kehm his manager in the Formula 1 podcast "Beyond the grid": "In his private environment, he was much slower in everything he did. In Formula 1 everything had to be done super fast, boom, boom. Sometimes we had crazy schedules with two-minute appointments. But privately he was very different. Totally relaxed. One who could enjoy his life, who had a lot of fun and spent a lot of time with friends. To do things that you can laugh about afterward. "For Kehm, the family was crucial for Michael:" Michael had his family. His wife Corinna and he were such a perfect couple. They still are, if you ask me. When he came home and the children were there, Formula 1 was far away. He needed this private life with his family to recharge his batteries. "
+++ January 9th:
It's now five years ago since Michael Schumacher's terrible skiing accident. Since then, the seven-time Formula 1 World Champion has recovered from his severe head injuries. Out of respect for his privacy, the family does not publish any further details about Schumi's current state of health. Ross Brawn, F1 sports director, spreads hope recently. In an interview with "BBC 5 Live": "We are all optimistic that solutions will be found in the future. There will be a time when things will move forward for Michael."
+++ January 3rd 2019:
50 years Schumi! Michael Schumacher celebrates his 50th birthday on January 3rd – and the racing world pays its respect to the most successful F1 driver ever. Daughter Gina-Maria posted old pictures of her father. She writes: "Happy Birthday to the best Dad". Son Mick publicly spoke out as well and took this opportunity to promote the new Schumi app, a kind of virtual museum.
+++ January 2nd 2019:
Today, the Schumacher family posted the following message on Michael Schumacher's personal Facebook fan-page:
"We are so happy so that you all together celebrate with us Michael's 50th birthday. Our sincere gratitude to all of you. To present him with a unique gift from all of you and us, the Keep Fighting Foundation has created a virtual museum. The official Michael Schumacher app will be released tomorrow so that we can all review Michael's achievements together. "
*The original message can be read in German on Michael Schumacher's Fan Page.
+++ December 28th:
On the occasion of Michael Schumacher's upcoming 50th birthday Sebastian Vettel remembers his first meeting with his idol:
"Of course, I always think back of the moment when Michael handed me the victory trophy at my kart race," says Vettel to F1 Insider reporter. But also the shared victories at the Race of Champions are important to the Ferrari star. "We both had no obligations, we could just pursue what connects us both so deeply – racing. In addition, unlike a typical Formula 1 event, there was time to talk about other things than F1."
+++ December 18th:
On the occasion of Michael Schumacher's 50th birthday, Ferrari dedicates an exhibition just for him. From January 3rd, the Ferrari Museum in Maranello near Modena displays the history successes for the former German Formula 1 driver, Ferrari announced on Monday. "Schumacher has a special place in Ferrari's history." The exhibition is a "tribute" to the most successful driver that ever drove for Ferrari.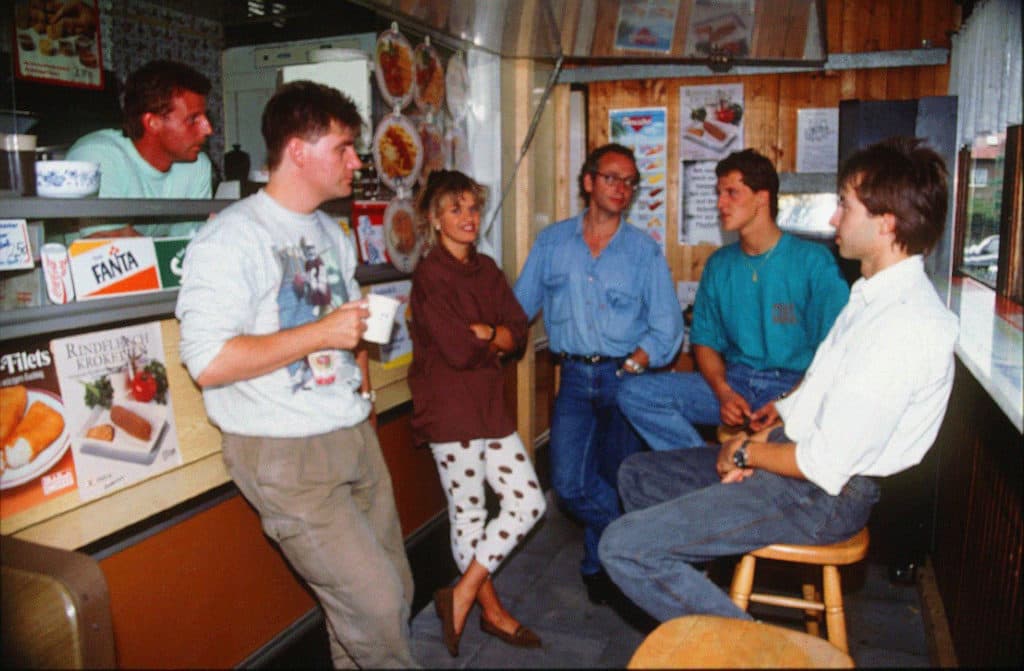 Ralf Bach (l.) with Corinna Schumacher, Reporter Christoph Schulte, Michael Schumacher and Heinz-Harald Frentzen in the early 90s. Credit: privat
How is Michael Schumacher today?
Many Michael Schumacher fans around the world ask this question: How is Michael Schumacher today. In this special report on Michael Schumacher we will keep track of the latest developments of his current state based on official press statements by his media team and family.
A Short Summary of Past Events
Am December 29th, 2013, Michael Schumacher experiences a fatal ski accident on the slopes of Meribel in the French Alps. In a head collision with a rock off the marked slopes, Schumacher experiences a serious traumatic brain injury. Only by wearing a ski helmet was he able to survive the fall, according to doctors later.
By helicopter Schumacher was immediately transported to the nearby hospital in Moutiers. After an initial assessment, he was directly transferred to the university hospital in Grenoble.
Latest Updates
The last official press communication on the condition of Schumacher's health dates back to September 2014, when he was released from the hospital to return to his main residence at Lake Geneva. After being treated for six and a half months at the University Hospital of Grenoble and another three months at the University Hospital of Lausanne he was finally able to return home. According to an official press statement which confirmed progress in Michael Schumacher health conditions:
"it remains a long and hard road ahead of him."