It's almost time for the most iconic race on the F1 calendar – the Monaco Grand Prix 2019. It's time to reminisce last year's race, some interesting paddock encounters and see why so many drivers choose it as their home. F1 Insider Ralf Bach reports:
Down to Earth Daniel Ricciardo
He might be racing for Renault this year and his chances of repeating his victory in Monaco this year slim to none, the smile on his face, however, never disappears – 2018 Monaco winner Daniel Ricciardo. There is a reason why he is called the "Honey Badger" by his loyal fans. Also, Ricciardo has remained extremely down to earth and home-bound all through his years in Formula 1.
In order to be close to his parents Joe and Grace, he rented an apartment just for them here in the celebrity bound principality of Monaco. But to keep costs under control in probably the most expensive property market in Europe, he himself is renting just a small apartment that consists of only one room plus bathroom.
"I don't need much more," commented Ricciardo on his living conditions in Monaco.
His father Joe is an avid classic cars enthusiast and started at the classic car GP in Melbourne. The family business home in Perth is managed by Joe's ten-year younger brother Mike.
Last year, Mike visited Monaco with his wife to watch his famous nephew race, see his brother and just take some days off. The couple lived in a small hotel called Select in Beaulieu where I stayed, too. So during breakfast, we bumped into each other and had a chat.
"It's nice and clean, we don't need anything more," the uncle commented on his modest hotel which is not located in the center of Monaco but about 20 min off towards Nice. The modesty sounds familiar. Incidentally, they got the tip from Daniel's parents, who often stayed there during Monaco GPs.
One thing you would notice immediately, how similar Daniel Ricciardo and his uncle look alike. If you looked at his uncle's face, you could feel looking straight into Daniel's face – just a bit older. The eyes, the teeth, the mouth, the laughter – the similarities are amazing. "I'm the youngest," he says, "Daniel's father, Joe, is the eldest, with three sisters in-between."
During the Monaco Grand Prix last year, the Ricciardo family watched the race in a small cabin at the Red Bull Motorhome – The Energy station.
"I had to constantly calm down my brother and hold Daniel's mother's hand, especially when we heard about the engine problems. When Daniel finally finished the race as the winner, they couldn't hold back any longer, and we all had tears in our eyes."
"Daniel had always dreamed of a victory in Monaco. The next morning, I had to pinch my brother regularly so that he was sure he wasn't dreaming his son's victory."
After his career, Daniel Ricciardo will return to Perth, of that his family is certain. He has already bought a farm there. "Actually, he wanted to live with animals there, but at the moment he has given that up," said his uncle.
"He built a racetrack of sand there and now races buggies with his buddies whenever he gets home."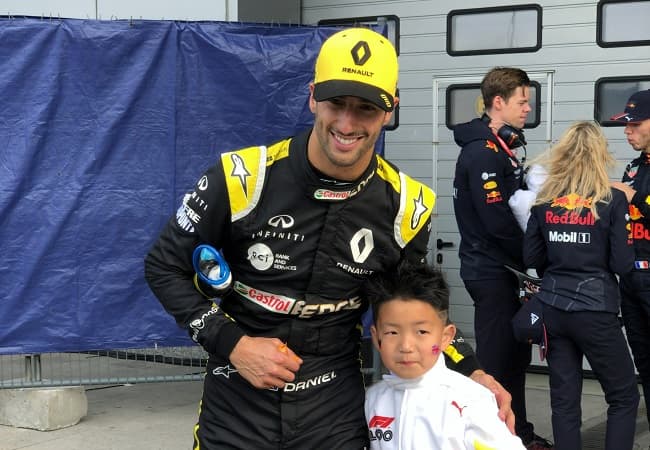 Gerhard Berger in Monaco
Among the many celebrities, former drivers and racing dignitaries that visit the Monaco GP each year, we met Gerhard Berger in the paddocks of Monaco. The DTM boss had a very emotional moment there. After the divorce from his second wife, he was finally allowed to see his two daughters for the first time after six years. "That was, of course, an extremely beautiful moment," said the Austrian in a serious tone.
Of course, Berger still kept his boyish charm with plenty of mischief on his mind. When former Ferrari teammate Jean Alesi strolled passed us and overlooked his old friend, Berger called out to him.
"Jean, I always knew you were more feminine than others, but do you have to show it so openly?" Berger made fun of Alesis' white jacket, which in the Tyrolean's eyes was more made for women.
Then he hugged his French friend and said in front of Italian journalists:
"This is my former teammate and friend Jean Alesi, who wanted to kill me three times on the track and his best friend was our then engine chief Lombardi, who built special power units just for Jean, which I never saw, let alone in the car." Alesi just grinned and tried to let it pass. Berger, on the other hand, was fighting for DTM after Mercedes left it in 2018. In Monaco, he had a good chance to promote his own team and to present his own vision for DTM. ***
Monaco Home Sweet Home
There is a reason why so many F1 stars have their homes in Monaco. Only a few years ago did Nico Hülkenberg move to the small principality near the Italian border. Besides the obvious tax advantages wealthy people enjoy, there are plenty of other arguments to have a permanent home there – and it's not only the great Mediterranean climate.
First off, Monaco's event calendar is always packed with first-class events such as the F1 Grand Prix. Monaco also holds many other popular events such as the annual yacht show and one of the best car shows in the world- Top Marques Monaco.
Another advantage that comes with being a magnet for the super wealthy, is the safety and peace the city offer that comes with a strong police force and a special law that forbids annoying Paparazzis to do their dirty work there, leaving the rich and famous in peace.
So it's only natural that F1 drivers love it here as well. Not only does Nico Rosberg live in the Principality, he even grew up there. By the way: Born in Emmerich Hülkenberg, he took the opposite route than Michael Schumacher and Nick Heidfeld. Both world champion Schumacher and Heidfeld lived at the start of their Formula 1 career in Monaco, then moved to Switzerland. Both preferred the countryside of the alps country to the coastal shores of Monaco.
Here is an overview of the homes of Formula 1 drivers that chose Monaco as their home:
Living in Monaco are Lewis Hamilton, Nico Rosberg, Daniel Ricciardo, Felipe Massa, Jenson Button, Pastor Maldonado, and Nico Hulkenberg.
At home in Switzerland are Sebastian Vettel and his teammate Kimi Raikkonen, Sergio Perez, and Haas driver Romain Grosjean.
In England Daniiel Kvyat, Valtteri Bottas feel at home. Max Verstappen lives in Belgium, Carlos Sainz in Spain, Marcus Eriksson in Sweden.
Interestingly, former double F1 world champion Fernando Alonso relocated to Dubai a couple of years ago.
*This article was first published in German at autobild.de/motorsport.