Red Bull is extremely optimistic after the first days of testing. Helmut Marko reveals why.
The only faux pas for Red Bull Honda occurred on Thursday morning. Red Bull Chief-Advisor Helmut Marko (75) was invited to talk at the Honda Motorhome at the Barcelona tracks but had already passed the Honda's facilities. Apparently he was on his way to Renault.
Only after our F1 Insider reporter reminded him that the collaboration with Renault had been terminated and Honda provided the aggregates for Red Bull now did he change direction back to Honda. The F1 expert and trained lawyer chuckled: "Old habits!"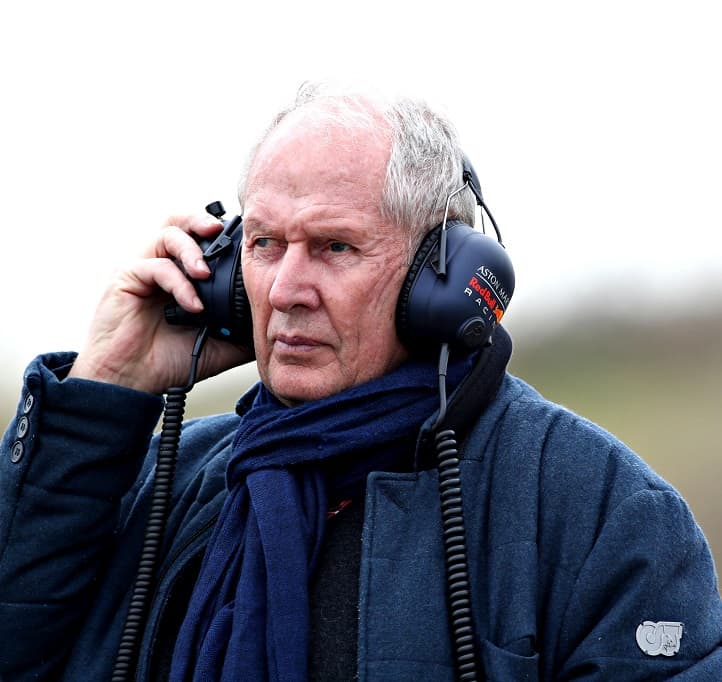 Marko's good mood these days is something of a surprise. In the past years at each first test of the year, the mood was completely different. That was when Red Bull was still working together with Renault.
"Honda has already done a great job," says Marko to F1 Insider. "Everything they have told us has come true. Everything is going as planned. So far, we had zero engine troubles!"
Marco is also very optimistic for the future: "Honda has incredible resources. We can see that both in their factory in England and here at the tracks. It's unbelievable how many parts Honda brings to just one test.
"Honda did not even max it out at these tests here, but rather ran a conservative software program. Yet, we have already noticed a big power boost," Marko praised Honda.
The F1 expert is sure: "At the moment we are number two just behind Ferrari, who look very strong. Maybe two or three tenths. But we are faster than Mercedes and that's not just because of our good car, but also because of the engines. "
The Verstappen camp is optimistic as well. "I am very, very happy, with the current progress," smiles Max Verstappen (21).
The mood within the Dutchman's team is especially good when it comes to their new engines. They feel assured that they get the best material from their engine partner in 2019. Something they weren't always confident of in previous seasons when Renault had been serving their own factory team.
Marko is satisfied with Verstappen as well: "He has gained more confidence over the winter. No doubt, he is finally ready to fight for the championship."
F1 Insider – In Depth
One important contributing factor for this year's positive start has been Honda's test year with Red Bull's junior team.
In 2018, Toro Rosso had to change their engines several times, therefore the team had to endure several penalties during the season. This, however, was part of Honda's detailed development plan. Marko comments: "It was a strategic move in order to be well positioned this year."
Even an incident between the Japanese Engine supplier and the Austrian Simulation Specialist AVL that occurred during the Winter weeks is nothing that could unsettle Marko.
AVL is the world's largest independent company for the development, simulation and testing of driving systems (hybrid, combustion engines, transmissions, electric motors, batteries and software) for passenger cars, commercial vehicles and large engines with its own testing facilities.
Honda had been using the Austrians' facility with its sophisticated equipment for some time to improve their F1 engines. This cooperation, however, has been terminted recently.
The reason: Quarrels between an AFL project leader and engineers from Honda. Interesting fact: Similar disagreements between that project manager and engineers from Ferrari had also led to their termination of cooperation. The Italian team had used AVL's innovative systems before Honda.
Marko also confirmed that the collaboration between ex-Mercedes engine boss Mario Illien (69) and Honda has been restricted.
Background: Honda had worked together with the Swiss engine genius to reduce the strong vibrations the Honda engines caused. Due to these vibrations, Honda hadn't been able to retrieve the full range of power these aggregates could provide (about 1000 hp, on Mercedes and Ferrari level).
Nothing to worry about according to Marko: "We have initiated appropriate measures." In other words, Red Bull is ready to challenge both Mercedes and Ferrari for the title in 2019.