Nico Rosberg commented on Sebastian Vettel's crisis. According to him Vettel would return and Charles Leclerc should better watch out.
Nico Rosberg knows the situation. As a young talented driver, he joined Mercedes in 2010 and was able to control Michael Schumacher for three years. Then Lewis Hamilton joined Mercedes posing a direct threat to Rosberg's number 1 status. Hamilton was able to become champion twice before Rosberg finally pooled all his mental strength together and defeated Hamilton in 2016.
Well, Vettel isn't in such a situation and is far from losing his status within Ferrari. Besides, the German already won four World Championship titles and his new team-mate Charles Leclerc only won two races.
Nevertheless, the last victory was a special one for Ferrari: the home victory at the Italian Grand Prix. A direct result of that victory: Leclerc is now hailed and Vettel written off by many – especially the Italian press.
A mistake, says Nico Rosberg in an interview with @AutoBild at the IAA:

"Charles Leclerc drove a phenomenal race in Monza. He's definitely a Ferrari champion of the future."
"But that can change quickly. Sebastian, we all know, is one of the best. He'll come back again."
Maybe next weekend in Singapore? The track, however, should suit Mercedes with its many curves again.
"But who knows," commented Rosberg,
"Maybe Ferrari can surprise again. It would be nice, especially important for Sebastian. Because he is going through a difficult time. The great thing about Formula 1 is that it's very short-lived. When he wins a race, everything else is forgotten and he's the big hero again. We all wish for him, that he will be back in front."
The former world champion also doesn't believe that Leclerc has already replaced Vettel as the #1 driver within the team. Rosberg:

"Ferrari is neutral. Simply the one who is in front gets more attention."
"For sure it's not a nice situation for Vettel," the German continued.
"It can't be that the teammate achieved such results and he didn't…that's not easy. But Vettel knows how to deal with his situation; he'll find his way around."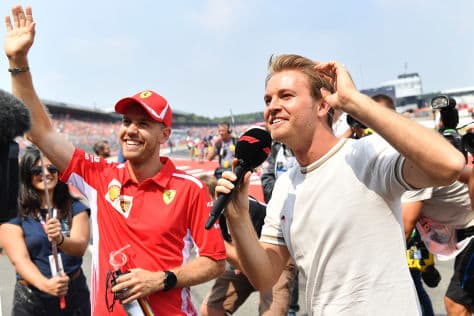 *This article was first published in German at autobild.de/motorsport.