"The new stability in his team will help Vettel "
Before the new season start, F1 Managing Director Ross Brawn talks about Ferrari, Mercedes, the new rules and EV trends. In an exclusive press meeting in front of a select group of journalists, ABMS and F1 Insider participate and report:
Mr Brawn, on March 17, the new Formula 1 season will kick off in Melbourne. Who is your favorite?
Ferrari looked strong from the start, but recently they had to deal with some reliability issues they need to overcome. I spent some time in their garage – the atmosphere is good and calm. They work constructively. I know Mattia Binotto (the new team boss) very well. He is an engineer, like me, and he works very structured and sees things pragmatically. We will experience a new calm at Ferrari.
And Mercedes?
Mercedes seemed a bit off tracks in the tests. But it's a strong team with smart minds – they know what to do. What I really enjoyed was Honda's reliability and performance. They seem to have improved a lot. Behind the top teams comes a fascinating midfield, which still has a gap, but they are reducing the gap to the top teams.
Sebastian Vettel will drive his fifth season with Ferrari, a fifth season in which Michael Schumacher finally became world champion with Ferrari. Can Vettel do the same?
Certainly, Sebastian can win the World title. The team was rattled and seemed disorganized last year after Sergio Marchionne passed away. Clearly, there were also tensions between Maurizio Arrivabene (former team boss) and Mattia Binotto. It wasn't an easy environment to work in, although the car was good. But if you want to beat Lewis Hamilton and Mercedes, everything has to be perfect. But I have the feeling that Ferrari is better positioned this year. The new calm within the team will also help and strengthen Sebastian this season. The interesting element is Charles Leclerc and how the team manages the situation between the two drivers.
Mick Schumacher is already a member of the Ferrari junior program. What does that mean for you, having won five Championship titles with his father at Ferrari?
I've known Mick since he was a little boy. There was a phase when he was not sure what he wanted to do but now he has a knife between his teeth, he is a very driven young man and it's fascinating how he evolved from one moment to the other as he became extremely competitive last year.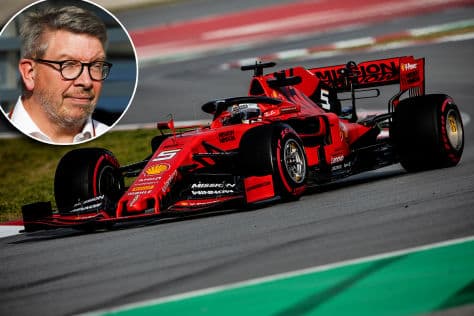 His father Michael Schumacher has seven championship titles, Lewis Hamilton now has five titles. How was Michael able to maintain his motivation at that time?
Michael never slowed down. Even in the two years when he was no longer world champion, he drove at an extremely high level. Only at the end of his Ferrari years, he was a little tired and needed a break. Before that, I could always call him at any time and ask him if he could come testing the next day. The answer was always: when? That was his job, his passion, he lived and breathed. There was no difference if he was fighting for the sixth or seventh title.
You introduced new aerodynamic rules for 2019 to facilitate overtaking. What is the feedback from the teams?
Mixed. The best feedback was: The new Aero makes a huge difference. The worst: nothing has changed. We need to give it some time first and see what happens when several cars build a row in racing conditions. And we also know that this is not complete solution, just a step forward towards 2021.
Right now your main job is to plan ahead for a time after the 2021 Concorde Agreement expires. Recently, one could have the feeling that the progress is limited. How far are you really?
It is difficult to reconcile ten teams in terms of regulation, budgetary limits, and distribution of money. It takes time, but we are making progress. Enormous progress. But the topics are too complex to assume that all teams are on board immediately. For example, in regards to the distribution of money, those who have a lot want to keep the status quo. Naturally, others want more.
These are tough discussions, we know that, too. We have to strike a fair balance because if the funds are better distributed, the sport also gets better. In other areas, we have already progressed enormously, for example on the topic of aerodynamic changes.
It is also clear that the strategy group will no longer consist of six but of all teams. A positive development, the FIA supports the progress.
Currently, Ferrari gets the biggest bonus. How do you want to explain to them that this arrangement is obsolete?
I'm optimistic that Ferrari's current management recognizes how important it is for the future of Formula One to have all teams be treated on equal footing. It just can't be that a team could be last, but still earns more than the team that won the championship.
Nevertheless, we have to reward – for example in the case of Ferrari – the legacy of the brand, its history and contribution to Formula One. Ferrari is special. The other teams need to understand that Ferrari will have to be treated with respect it deserves. But the balance has to be right. Because we will never attract new teams and manufacturers to F1, if it is not financially attractive to win. I think Ferrari has understood this.
Formula E is booming, EV is trending. How will this affect Formula One?
Honestly, I have no idea. No one knows where the auto industry will be in five years from now. Yes, there is a lot of enthusiasm for e-cars. But their pollution is still the same as that of a medium-sized gasoline engine. Because the electricity has to be generated somewhere. And at the moment, we only partially generate electricity from renewable energies.
So pollution is just being transferred from the city centers to the power plants in peripheral areas. For me, the development of internal combustion engines has not come to an end, yet and I firmly believe that we will return to appreciate this technology. Once the enthusiasm for electric cars has dropped, we will see if they are the solution or only part of it.
For Formula 1 it is clear: What must be the fastest, strongest and most spectacular racing series. At the moment, this is best achieved with hybrid power. However, the FIA ​​has already set up a working group that works on the drive of the future.
In England, people are not just worried about Brexit, but also about the expiring contract with Silverstone. Will 2019 be the year to host the last British GP?
I don't believe that. We want a British GP and to find a solution with Silverstone. But I can also imagine that Silverstone could alternate with Brands Hatch. We also follow the idea for a race in London. Not in the center, that would be logistically impossible, but in closer surroundings of London. That would be the London GP.