Sebastian Vettel has a lot to do this coming weekend at the German Grand Prix – Hockenheimring. After his crash in the Sachskurve in 2018, he finally wants the victory in Germany – it could be his last chance. Unfortunately, the Ferrari SF90 is not a "Vettel mobile." ABMS and F1 Insider explain the details.
Today, Sebastian Vettel (32) can almost laugh about this fateful event about a year ago:
"..I was extremely angry with myself. Today, it's water under the bridge. When I see how I dig into the gravel of the Sachs curve and hit the steering wheel furiously I have to grin. I made a small mistake back then with big consequences," Vettel explained ahead of the race at home.
Indeed, when Vettel lost control over his car at the Hockenheim Ring, leading, one hand already grasping the cup, he lost more than just one race. With that traumatic experience, a series of negative events began to unfold for the Ferrari star. In the end, he didn't have the slightest chance against Mercedes and superstar Lewis Hamilton.
No doubt, Vettel would do everything to rewind time and there is an obvious reason for this. While last year's Ferrari suited him, this year's SF90-H doesn't. Hence, his outlook for this weekend is rather subdued.
"One should never say never. I'll give everything as always, but realistically Mercedes is a big favorite here. I don't have a feel for the car's rear just yet, hence lacking confidence as usual. We have to work on it," explained Vettel.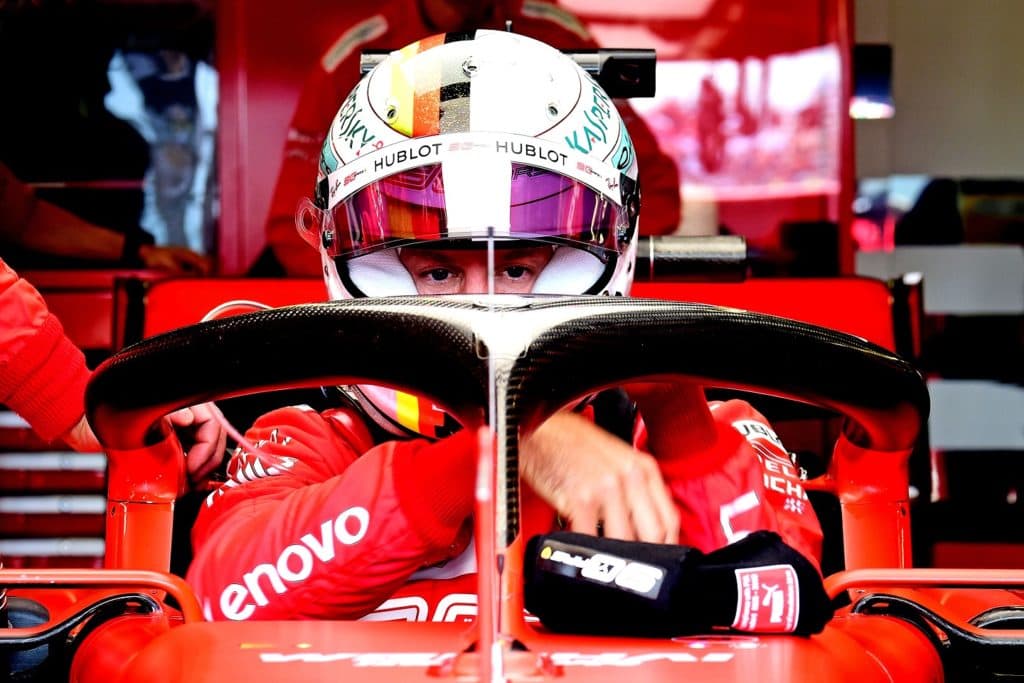 Worse than the gap to Mercedes is the increasing competition with his own team-mate Charles Leclerc (21). Leclerc caught up with Vettel in terms of points and qualifying. He is trailing the four-time champion by just three points. That's why Vettel is under tremendous pressure at home and especially from the Italian media.
Gary Anderson Understands Vettel
Former Jordan Chief Engineer Gary Anderson (68) thinks he figured out Vettel's current challenges:

"Without question, Vettel is a top driver, but he needs a car that suits him. If anything the Ferrari tends to understeer, some drivers like that and can handle it, I don't think Vettel is one of them."
"In the days of the diffuser at Red Bull, he was the champion," Anderson continued.
"At the corner entry, the rear was always moving, but he knew it would give him grip as soon as he hit the gas again, giving it the strong front on the corner entry and a stable rear on the exit. The balance shifted through controlling the throttle – Vettel was in full control."
Currently, the back of his car causes him trouble when Ferrari tries to mechanically get the understeering at the front under control. Anderson demands:

"Ferrari has to help Vettel now. But it will be difficult, because I have the impression that the problem lies in the design of the front wing, and that can't be changed that easily." One thing is for sure, as Anderson saw it:
"It just can't be helped. Vettel has to adapt to new conditions. There is simply no time to ponder."
Ferrari Without New Updates
Unfortunately, Ferrari won't bring any new updates to Vettel's home game. Team Principal Mattia Binotto (49):
"We do not have any specific updates, but the data from the last race at Silverstone gave us helpful information to help us better understand our car."
Vettel, in the meantime, hasn't given up: "We have something to make up for last year, especially I do. That's why I'm looking forward to driving in Hockenheim. The atmosphere is always phenomenal and the audience is just great."
The weather god, however, seems to be on Mercedes side. While the temperature at the Hockenheim Ring is forecasted to be around 41 degrees on Saturday, Sunday will remain cool at "only" 27 degrees, which should help the Silver Arrows.
With these preconditions, Vettel will have a very challenging weekend ahead and it might be his last chance to win own home race.
According to our sources, Liberty isn't ready to compromise in negotiations with organizers of the Hockenheimring. They, however, urgently need sponsorship money to compensate for possible losses.
In 2018, Mercedes bailed them out. According to ABMS sources, Mercedes transferred three million euros last year. For 2019, however, corresponding funds have been canceled.
*This article was first published in German at autobild.de/motorsport.