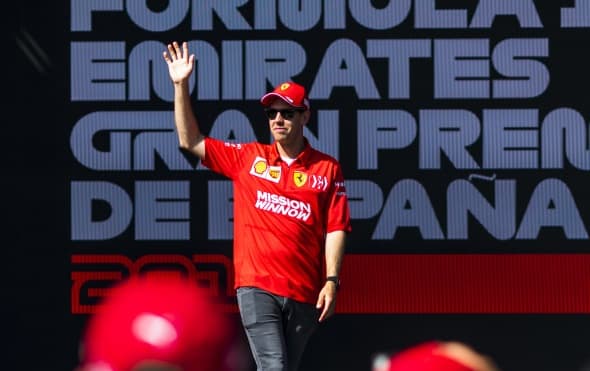 Sebastian Vettel is highly motivated despite recent defeats against Mercedes. He doesn't give up, because he has only one goal in mind. F1 Insider Ralf Bach reports:
Sebastian Vettel: "Still things to do"
There are these moments when no cameras disturb, no large crowd looks at you, where you feel vulnerable, cornered and watched. Where men want to face each other and want honest answers. That's why I waited for that particular moment when Sebastian Vettel (31) was alone. After the TV interviews on the way back to the Ferrari Motorhome, I approached Sebastian and called out his name and asked: "There are rumors that you are thinking about quitting. Is that true?"

Vettel looks a bit confused, then his eyes focus again. "No, that's not correct. I still have things to do here."

I had no doubt. That was honest. That came from deep inside him. NO ROOM FOR MISINTERPRETATIONS!
I have known him for too long. I have often asked him a question in private. He never lied! Well, only once in Suzuka 2014, and not even properly. I knew he had already signed a Ferrari contract, but unlike me, he saw an Italian journalist behind me who could speak German. That's why he dodged my questions. Later he approached me and apologized explaining: "Sorry, I couldn't tell you the truth."
Let's have a closer look at his statement. Finishing means, despite all these challenging circumstances, he still has one goal in mind: To become world champion with Ferrari. How often doesn't really matter – it's about the first time.
Vettel is a fighter. He has always been one. Therefore, he isn't demotivated by the fact that there is already 35 points gap to leader Valtteri Bottas after four races. "There is a great atmosphere at Ferrari. I also know that we have a very good car. So far, we just haven't been able to maximize this potential," Vettel explained.

"In the first week of testing we were ahead, in the second we were at eye level. In the first race we were back, in the second we were slightly ahead. We were back in the third and fourth races, both in qualifying and in the race. Basically, the gap to Mercedes is very small. Things can quickly turn in our favor," Vettel continued.

That is supposed to happen in Spain. There, the German felt one with the car in winter testing, which wasn't the case thereafter ever since. To his and his team's surprise, the car felt different almost alien to him.

"I am therefore very curious whether I will get the same feeling here again in Spain," Vettel is hopeful for the first European race of the season.
Nevertheless, ​Ferrari doesn't leave anything to chance. They have already prepared the first stage of an engine upgrade ready for action this coming weekend.
Sebastian Vettel In Attack Modus
"It will allow us to be stronger than in the past races," explains Vettel Ferrari's development program.
"It's very simple: We have to start collecting more points. The later we start, the worse it will be for us. The sooner the better," Vettel summarized a simple formula for Ferrari's success going forward.
The most important, though, is that he has rediscovered his fighting spirit and faith in his own strengths. Both seemed to have gone lost between Pirelli tires and the diffuser after the first four races this season.
*This article was first published in German at autobild.de/motorsport.