With Sir Stirling Moss, one of the last knights of racing fell asleep forever on the morning of Easter Sunday. At the age of 90 after a long illness, he lost his final battle. "He died the way he lived: wonderful looking," his widow Lady Suzie told the Daily Mail. 
Moss is one of the great greats of British racing and is considered the best Formula 1 driver who never became a champion. He won 212 of his 529 car races, be he never won a Formula 1 title. Between 1955 and 1961 Sir Stirling was four times second and three times third. He still holds the all-time record at the famous Mille Miglia sports car race in Italy, which he set up in 1955.
Our journalist colleague Bianca Garloff, editor-in-chief of AUTO BILD MOTORSPORT, last met Stirling Moss at an appointment in Monza 2015, where she conducted an interview with Moss together with Lewis Hamilton.
We can once again publish the conversation about rivals, German teams and women here:
Sir Stirling Moss, Lewis Hamilton, you are two English racing legends who have celebrated their greatest successes in a Mercedes. For whom of you is it a greater honor to meet each other?
STIRLING MOSS (85): It is definitely an honor for me to meet Lewis. He already has two world titles, I have none (smiles). Lewis is already a legend for me.
LEWIS HAMILTON (30): You just want to be polite (laughs). Such an interview is totally crazy for me. When I was a fan myself a few years ago, I never would have thought that I would sit here with Sir Stirling and talk about our common ground.
How does a Brit feel in Germany? Mister Moss, you came to Mercedes in 1954.
MOSS: When I got my Formula 1 offer back then, there weren't any good English teams. But I wanted to win. That was only possible with Mercedes. I had to justify to the English journalists that I was practically driving for the enemy. Then I asked: Do you want victories or not?
HAMILTON: I'm in a different situation. Mercedes is German, but the team is based in England. Someone once told me that we have 46 different nationalities in the team. Mercedes has long been international in Formula 1.
MOSS: But you shouldn't forget how many mechanics and engineers you have. I only had two!
HAMILTON: (laughs) And I have tons of people around me. Around 700 people build the car and another 400 build the engine.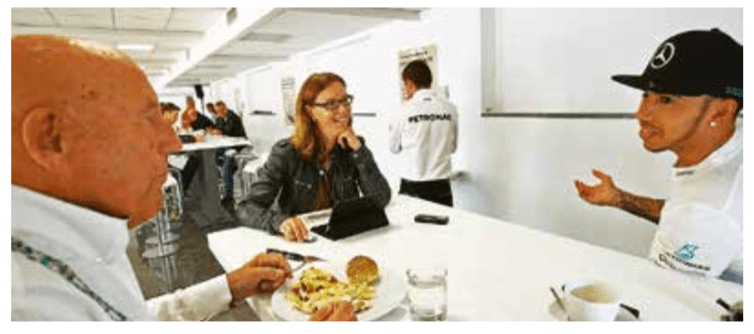 What is typically German for both of you?
HAMILTON: Good, solid and efficient cars. Germany stands for quality. You have the best streets in the world and the most modern architecture. Everything the Germans do is done to perfection.
MOSS: I associate an experience with Germany forever. I came back to the pit after a test with a pitch-black face. And then there was actually a butler with a white towel that I could use to clean my face. There was also hot water – somewhere in the middle of nowhere. Even then, Mercedes was a perfectly positioned team.
And what does it mean for you to drive and win at home in England?
HAMILTON: You know the majority of the really big British racing fans are behind you. That gives you an extra boost. You represent your country. Then when you win it makes you incredibly proud.
MOSS: I still believe that my team-mate Juan Manuel Fangio (five-time world champion) made me win in 1955 for precisely this reason. I asked him later if he gave me the victory when he said only: "Today was your day."
HAMILTON: The times were different. Loyalty and friendship played an even more important role. The people were generally polite. Today there are no more gentlemen in Formula 1. You only think of yourself and try to get the maximum out of yourself. Because Formula One has become a big business.
MOSS: And because it's no longer so dangerous. Back then, the cohesion was greater because we knew we could lose one of us in every race. We were real friends.
How is Lewis Hamilton today's Fangio?
MOSS: Lewis is actually somehow in Fangio's role. In contrast to Lewis' opponents, I was a happy second at the time. I had enormous respect for Fangio and was proud to be able to learn in his slipstream. At that time we were called the chain because we always drove the other one up and away.
Mercedes' biggest opponent at the time was Ferrari – just like today.
MOSS: That's right. I've fought Ferrari all my life because Enzo Ferrari used to be quite rude to me. He was not an easy man, and for him the car was more important than the driver.
You started for Maserati instead. What was the difference between the Germans and the Italians?
MOSS: The Italians were passionate, the Germans efficient.
Was driving more fun back then?
MOSS: Definitely. We didn't have to deal with sponsors all the time, the race tracks were more difficult to drive, the cars more difficult to control.
Mr. Hamilton, what are you missing today?
HAMILTON: I miss the girls. There are so many men in the paddock that is no longer funny.
MOSS: We brought the girls ourselves back then.
HAMILTON: Nobody does that anymore. Most are in a steady relationship. And there are no more groupies (pretend he's crying). There are so many groupies in the music scene, but Formula 1 doesn't sell us this way. Unfortunately.
<!– /*! This file is auto-generated */ !function(d,l){"use strict";var e=!1,o=!1;if(l.querySelector)if(d.addEventListener)e=!0;if(d.wp=d.wp||{},!d.wp.receiveEmbedMessage)if(d.wp.receiveEmbedMessage=function(e){var t=e.data;if(t)if(t.secret||t.message||t.value)if(!/[^a-zA-Z0-9]/.test(t.secret)){var r,a,i,s,n,o=l.querySelectorAll('iframe[data-secret="'+t.secret+'"]'),c=l.querySelectorAll('blockquote[data-secret="'+t.secret+'"]');for(r=0;r<c.length;r++)c[r].style.display="none";for(r=0;r<o.length;r++)if(a=o[r],e.source===a.contentWindow){if(a.removeAttribute("style"),"height"===t.message){if(1e3<(i=parseInt(t.value,10)))i=1e3;else if(~~i<200)i=200;a.height=i}if("link"===t.message)if(s=l.createElement("a"),n=l.createElement("a"),s.href=a.getAttribute("src"),n.href=t.value,n.host===s.host)if(l.activeElement===a)d.top.location.href=t.value}}},e)d.addEventListener("message",d.wp.receiveEmbedMessage,!1),l.addEventListener("DOMContentLoaded",t,!1),d.addEventListener("load",t,!1);function t(){if(!o){o=!0;var e,t,r,a,i=-1!==navigator.appVersion.indexOf("MSIE 10"),s=!!navigator.userAgent.match(/Trident.*rv:11\./),n=l.querySelectorAll("iframe.wp-embedded-content");for(t=0;t