It looked like a normal working day at the royal park just outside Milan – and yet the world of motorsports still suffers from the tragic death of Anthoine Hubert.
Autodromo Nazionale di Monza, just five days later:
The Teams set up their tents, before the Formula 2 hospitality area teams were practicing pit stops, and under provisionally constructed tents mechanics were working silently on their race cars.
Only in one tent was everything different than usual – at BWT Arden. Anthoine Hubert and his 612 hp racing car were missing. Instead, the team lovingly displayed a vehicle nose with the starting number 19. In front of it a picture of the French driver who lost his life so tragically in Spa the previous weekend.
The installation looked like a shrine in honor of a young pilot. His teammate Tatiana Calderon was standing there staring, almost in trance, at the larger than life photo. The smile has disappeared from her face who is usually known for her friendly and warm personality.
Bravely, she said: "Words can not describe my feelings, my heart is with Anthoine's family, I will drive for him in Monza and do my best to make him proud."
The shock still sits deep in the hearts and souls of these young racers.
"The modern generation of drivers doesn't know death," former World Champion Jackie Stewart commented, who became World Champion in 1969, 71 and 73.
"It's all the more shocking when something happens, and the shock and grief that has been felt so strongly at Spa-Francorchamps is something new for these boys."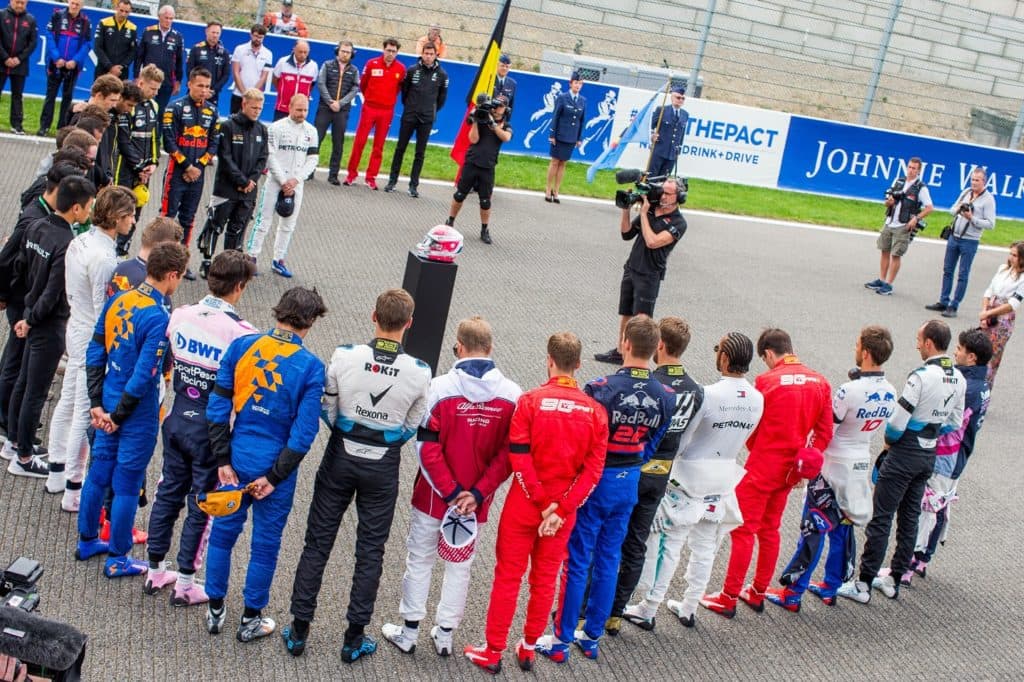 "A Wake-Up Call"
Stewart summed it up on Thursday:
"We have had numerous accidents in recent months. Accidents that were not punished as drastically as it was last weekend. We saw broken wings, cars in the air."
"Perhaps the pilots will become more aware that they can't take all their liberties. No one should assume they are bulletproof, and there is no guarantee that such accidents will not happen again as they did on August 31. That should be a wake-up call."
Sebastian Vettel agreed during the official press conference on Thursday. The 32-year-old is now one of the experienced pilots in the field. He knows for sure that at a speed of 300 km/h safety is just an illusion. Hubert was the victim of a brutal chain reaction. Tire marks on his helmet prove that the impact was too strong – there was no chance to survive.
"To a certain extent it is part of motorsport," Vettel admitted.
"It's dangerous and that's part of the tension, but the last few years with the deaths of Jules and Anthoine were certainly see this as a wake-up call, and these tragic events show that there is still much to do, even though some people think that the sport has become too safe and therefore boring."
The German Hesse made it clear: "There are quite a few things that can still be done better in Formula 1. We need to improve and keep working because, in the end, I would prefer a boring championship instead of these losses."
*This article was first published in German at autobild.de/motorsport.