Sebastian Vettel has to endure a one-year phase without a single victory. Here are his chances to win at Spa.
It's been a year since Sebastian Vettel won his last victory. It was in Spa 2018. Formula 1 came out of the summer break and the Ferrari star snatched in lap one pole-sitter Lewis Hamilton and the victory in the Ardennes.
After that, Sebastian had to endure a negative series without comparison that ultimately helped Hamilton secure his next world title rather comfortably.
Unfortunately, Vettel wasn't free of blame for the disaster series. The mistake in Monza, the collision with Max Verstappen in Suzuka and again the mistake in a direct fight with Ricciardo in the USA – all errors that could have been avoided.
In an interview with F1 Racing, the German summarized his point of view:

"Maybe I didn't look very good there. A lot of it is just taking risk and racing. Unfortunately, it didn't always work out."
"I know what happened in the cockpit, I know what I did, I looked at it. Of course, I hope it doesn't happen to me again. But I have to keep going…"
Vettel's valve is his emotions, which he openly displays at occasions. A good example is Canada in 2019 when he exchanged the boards after his time penalty and swore furiously on the radio.
"These are just emotions," he explained.
"I scream because I'm annoyed at that very moment. It's like when I don't give enough spin to the ball in a tennis match. I go off and I scream like John McEnroe. "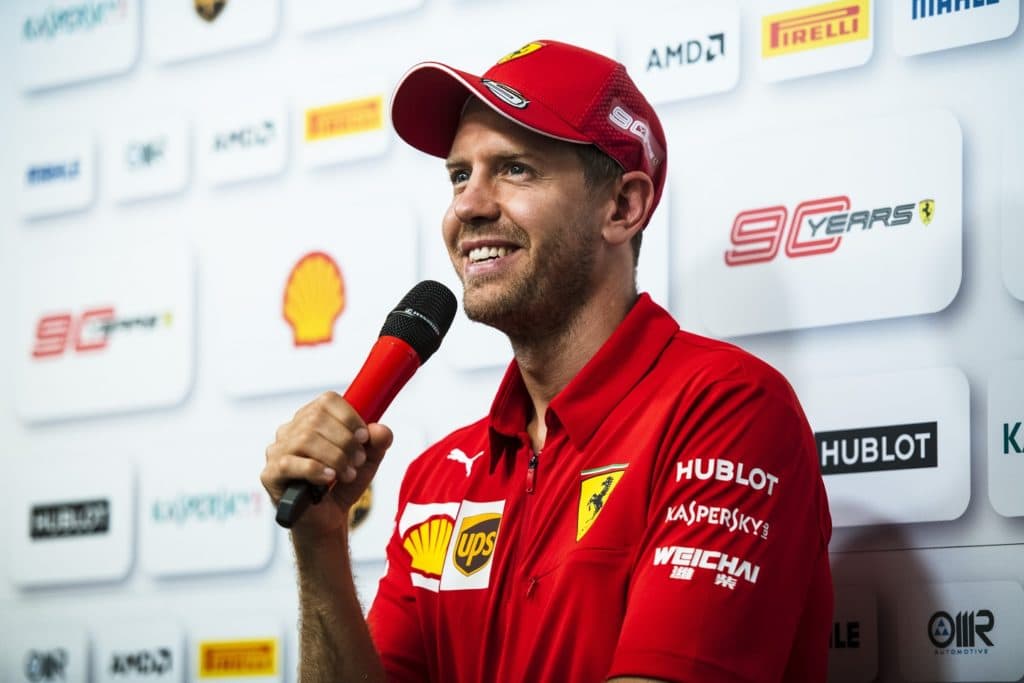 These are situations he doesn't want to experience again in the second half of the season. Because, now, it's vital to finally put an end to the losing streak and to regain confidence.
In fourth place, Vettel is the best Ferrari driver so far, but unfortunately with a 94-point gap to leader Hamilton. Nevertheless, Ferrari hasn't given up the season, yet.
Team principal Mattia Binotto:

"The rules remain the same for 2020. If we improve the car this year, we will benefit from it in 2020. We won't give up and try to get the best out of this season."
The two upcoming circuits in Spa and Monza are vital for Vettel and the whole team. There, raw power counts more than downforce – and horsepower Ferrari has plenty of.
Especially in qualifying, the Scuderia can ignite the turbo. And unlike slow turns, Vettel's red racer is less sensitive in fast corners. The same counts for Spa-Francorchamps.
So there is some reason for Ferrari fans to be optimistic and to see the red goddess achieve the long-awaited first victory after a painful year of waiting.
*This article was first published in German at autobild.de/motorsport.