Ferrari and Pascal Wehrlein (24) will share a common path. The former DTM champion and Mercedes Junior Wehrlein will be testing for Ferrari this season. Ferrari announced on Monday that they signed up Wehrlein for F1 simulator tests.
The young German, who just finished his first Formula E race in Chile in second place with Mahindra, has made an important step forward towards returning to Formula 1.
Wehrlein is happy to be a part of this prestigious team with a long tradition in F1. "It makes me extremely proud and it is an honor for me to work for Ferrari," he tells us. "I've been to Maranello and I've felt an atmosphere I've never experienced before. Ferrari is just very special. I will do my best to help Sebastian Vettel and the entire Ferrari team to win the World Cup. They deserve it. "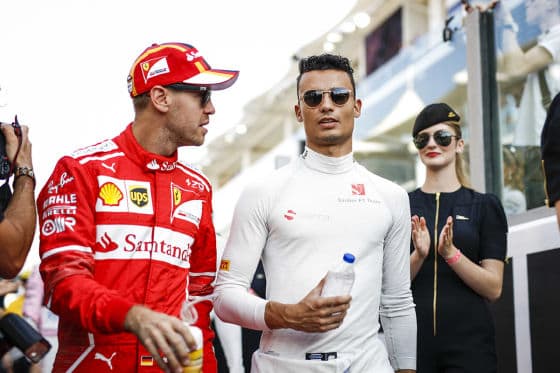 Ferrari team boss Mattia Binotto (49) underscores the importance of simulator rides in modern Formula 1 racing. "They are extremely important and can roughly be compared to the test drives of previous years, which of course are now extremely limited by regulation."
Ferrari has a total of four simulator drivers for its 2019 program. Wehrlein, who simultaneously completes his Formula E year with Mahindra Formula E team, will be assisted by ex-Toro-Rosso pilot Brendon Hartley (29) from New Zealand, as well as from two Italians, Antonio Fuoco (22) and GT pilot Davide Rigon (32) who both have been part of the Ferrari squad for some time.
The main burden, according to Ferrari, will be on Wehrlein if there aren't any schedule conflicts. Extremely important are the simulator tests on race weekends. Wehrlein's predecessor Antonio Giovinazzi (25), who this season will compete for Alfa Romeo Racing, has tried several set-ups in night shifts on Fridays before qualifying and race days. This important input was often utilized by Sebastian Vettel and Kimi Raikkonen the next day for qualifying.
Another good sign for Wehrlein: Both Ferrari simulator pilots Daniil Kvyat and Giovinazzi we able to land a job as F1 pilots. Kvyat will compete for Toro Rosso in 2019.