Ferrari team boss Mattia Binotto (49) confirms what ABMS und F1 Insider published already last year. In an interview with Corriere della Sera the new Ferrari Team Boss Mattia Binotto (49) reveals:
Tensions between him and ex-team boss Maurizio Arrivabene have led him to almost leave Ferrari because working together was sheer impossible at that time.
"I felt that I was no longer able to do a good job, and that's what I said – it was not just me, but the impact on the entire team. If the technical director is not capable to do his or her job well, it automatically reflects on all the other members of the team."
This last statement became more than obvious at the end of the season at the power struggle found its culmination. Binotto had no choice but to demand a clear decision from the Ferrari owners (Fiat Group & Other Shareholders)
It was him or Arrivabene – someone had to go. In the end, the owners made the right decision. They decided for Binotto. Especially in light, that Binotto would have been a valuable addition to any top team such as Mercedes or Renault which were both in touch with Binotto. That's what Binotto admits today: "It's true that I had contacts with other teams. My experience in Formula 1 has its value."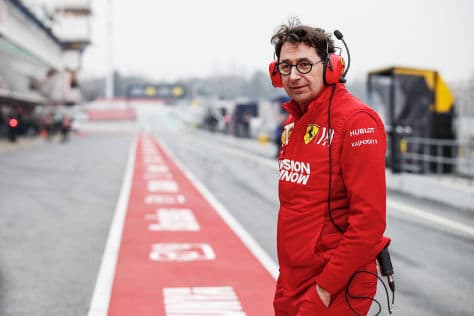 Today, Binotto is more relaxed about the whole situation last season and has more diplomatic words for his former rival Arrivabene: "It was nothing personal, not a real fight, but we had different views on how to manage at the racetracks."
Binotto doesn't say it, but ABMS and F1 Insider know: One of Binotto's criticisms was that Arrivabene did not commit himself to Sebastian Vettel as the number 1 pilot after Vettel dominated Kimi in points. He even allowed teammate Kimi Raikkonen to fight him at strategic important races.
In Monza, it cost Vettel and Ferrari dearly, not only the pole position but most likely the race – critical points for both Vettel and the entire team.
This, however, will not be repeated under Binotto. Even before the first race of the new season, the new Ferrari team boss has determined that Sebastian Vettel is positioned to reach for the championship this year and new teammate Charles Leclerc is there to support Vettel and the entire team.