Former Mercedes motorsport boss Norbert Haug in an exclusive interview about Lewis Hamilton and Michael Schumacher, German talents and Mercedes in Formula 1
Mr. Haug, Lewis Hamilton is well on the way to beating Michael Schumacher's record of 91 victories – and to equalize his record for World Cup titles. Did you think that somebody would ever manage that?
Norbert Haug: For ages it was unimaginable that Michael's record of 91 victories could ever be matched or even beaten. But if you paid a bit of attention, it became clear two years ago at the latest that Lewis is on the very best way to beat all existing Formula 1 records. But Michael never had such a superior environment and such an unrivalled race car as Lewis finds at Mercedes. Which is not to diminish the magnificent performance of this man and exceptional driver, whom I have accompanied from karting to Formula Renault, Formula 3, GP2 and all the way into Formula 1, where he took his first pole position, his first victory at the 2007 Canadian GP and his first World Championship win in 2008. What Lewis has been demonstrating in terms of consistency and skill for 14 years now in Formula 1 is simply unique and unprecedented. And in my estimation, it will most likely never be repeated.
READ MORE: Party mode ban delayed
To what extent were you able to see how strong Lewis was back then?
Lewis did not fall out of the sky into karting as a potential world champion. As is well known, he grew up in modest circumstances. His father, Anthony, is the most important cornerstone of Lewis' success story. Without his tireless work to earn money for his son's sport, the successful basis could never have been created. Which of course Lewis knows and for which he will be eternally grateful to his father. The young Lewis was already special when he was our guest at Mika Häkkinen's world championship celebration in the Stuttgart Mercedes Museum at the age of 14.
In what way?
Lewis was simply polite, well-behaved, he was not the center of attention of course, but he was happy and proud to be part of it.
How do you rate Max Verstappen compared to Lewis?
He certainly has similar potential and ability. In Formula 1 there are only very good and very, very good drivers. Lewis and Max belong in the second category. And – ironically enough – if there were only very good drivers on the grid in the current Formula 1 World Championship, the races might be more exciting. But in most cases, almost everything revolves around four tires and two drivers.
Why does it make sense for Mercedes to stay in Formula 1 with a factory team – or not?
In my opinion, there has never been a more meaningful Formula 1 commitment than that of Mercedes-Benz, including that of the Formula 1 traction brand Ferrari. At least three-quarters of the total time of Formula 1 engagements in the 50s, 1990s and 2000s with partner McLaren, Mercedes drove where the music was playing. So in front and for victories. In the 1950s, two world championships were won with the Silver Arrows, three drivers' and one constructors' title with McLaren, a drivers' title with Jenson Button and the Constructors' World Championship with partner Brawn GP 2009. Compared to all other manufacturers ever active in Formula One – Ferrari included – this is a stellar record and one that has lasted for a quarter of a century straight. Of course, the Silver Arrow dominance of recent years eclipses anything ever seen before.
Mercedes F1 commitment cost-effective
What is the reason for this?
In addition to the riders and above all Lewis Hamilton, it is due to the unerring management of Toto Wolff, the highest level of expertise of the technical team and the best team play. The Mercedes Formula 1 commitment was extremely cost-effective from day one because sponsorship income and payments from the commercial rights holder always covered at least two-thirds of all costs. The media success and worldwide attention value was enormous and could never have been achieved with any advertising campaign in the world. Anyone who spends millions or even billions over the years can place ads and commercials claiming to be world champion. But only those who can prove it on the race track and beat everyone can do it. The value that the Mercedes-Benz brand received from its motorsport commitment as a whole is a million times greater than the financial commitment made, and the best example of this is the tremendous success of the Mercedes brand AMG and the money that is earned there and secures jobs.
What did Michael Schumacher do better at Ferrari than Sebastian Vettel?
Whoever is evil will say: everything. But that is of course not true at all. Just as Mercedes managed to create first-class conditions for victories and world championship titles for Lewis Hamilton, Ferrari failed to do the same for Sebastian Vettel. The last Ferrari title win – the older ones among us remember – dates back to 2007, and if we hadn't been stupid enough to not get Lewis Hamilton to the pits in time for the Chinese GP, he would certainly not have ended up in the gravel bed at the pit entrance and would have scored the only point missing at the end for the World Championship title in gentle gear. Before 2007 there were five Michael Schumacher Ferrari titles from 2000 to 2004 in a row, and before that for 21 years – since 1979 and Jody Scheckter – nothing at all. It's not presumptuous to claim that Ferrari hasn't been cracking outside the Schumacher era and after the Niki Lauda era in the 1970s. I love and appreciate Ferrari, but no love or appreciation can erase facts.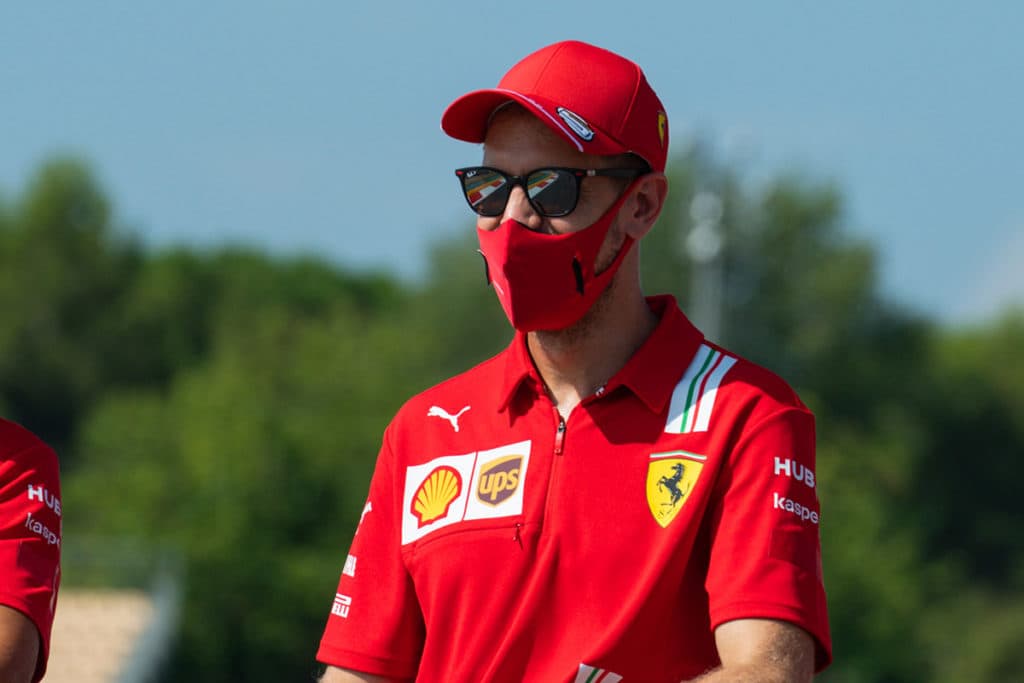 Would Sebastian have had a chance at Mercedes in your time?
I had negotiated with Sebastian at his Toro Rosso time. Who knows how Formula 1 history would have developed if we had reached an agreement back then. But: In the top league of Formula 1, everyone negotiates with everyone else at some point, and those who don't admit it simply keep it to themselves. But it's still true.
What would you recommend to Vettel in the current situation for the future?
Brake late, step on the gas early and don't fly out of the curve. Seriously: Sebastian absolutely has to show that he has his fast and talented team mate Charles Leclerc under control or at least is equal to him. Whoever is regularly left behind by his team mate is second choice in Formula 1, which is by no means a realization of mine, but the law of the industry.
How happy are you that McLaren-Mercedes is making a comeback in 2021?
I am very pleased. And I would also like to see Ron Dennis, who has since retired, receive more recognition for all that he has done for Formula One in general and McLaren in particular. We had great and predominantly successful 15 years together, and the McLaren-Mercedes Silver Arrows with Häkkinen, Coulthard and later Hamilton were a byword for quality in Formula 1 during this time. I would be very pleased if that were to happen again. And with Andreas Seidl there is – since things are looking up again – a racer at the helm who knows where the top step of the podium is and how to get there.
Let's get to the DTM: Audi and BMW are leaving the DTM as works teams. How sad are you about the end of the prototypes in production?
That's terrible, although the manufacturers can certainly justify it. For motorsport as a whole, for all the framework series, for the youngsters who have always found a home and motivating training ground in the DTM. Whether Hamilton, Rosberg, Bottas, Vettel, Leclerc, Verstappen, Hülkenberg – they all drove in the DTM supporting programme, as well as around two thirds of the current Formula 1 field, and each of these gentlemen knows where Oschersleben is. The DTM stage has always been a motor sports format that is appreciated worldwide and has always had much more to offer to spectators on site or in the media than just humming. The DTM has always been much more than a racing series. It was a concept of quality, a reflected state of mind, and even Formula 1 drivers and representatives clicked their tongues when they spoke of the DTM with enthusiasm and admiration. Sad, but true: If you don't have it anymore, you will realize what you had in the DTM.
To what extent can you imagine a GT3 DTM and how important would it be for German motorsport?
Two parallel GT3 race series at ADAC GT Masters and DTM I would not consider to be target-oriented. But maybe there are developments that I am not aware of.
Mick Schumacher is struggling in Formula 2, what do you think he can do?
Very much. You don't always see it, but Mick has it. He can and will make it. I've seen great moves and maneuvers from him, the knot has to come undone constantly, with his team as well as with him. His team is currently not the Mercedes of Formula 2, but it can be.
The times of seven Germans in Formula 1 are over. What needs to be done in Germany for young talent?
This task will not be any easier without a suitable reason for practice – see above. In the worst case, there will be neither a German in Formula 1 nor a DTM next year. And that's despite the fact that Sebastian Vettel, like Nico Hülkenberg, could compete for victories and possibly titles with the right equipment and team. If someone had predicted this threatening development ten years ago, I would have been worried about the mental state of my conversation partner and would have advised therapy. It's good that there is an ADAC support program and the ADAC Stiftung Sport. After all, a driver with Hamilton's potential and skills would be extremely good for Germany and the entire German automotive industry.
Why is promotion so important?
The current Hamilton has been promoted by Mercedes from karting to Formula 1, and it has rewarded the brand in many ways in Formula 1 for almost a decade and a half. The next Hamilton will be as unlikely as he is to be the first to fall from the sky into a kart. He must be found and supported. And I would prefer even more if a young German woman with Hamilton potential could be found and supported. One who in five or six years will show the best in Formula 1 how to brake later, step on the gas earlier and still not fly out of the curve.
Translated with deepl.com (freeversion)
Follow us on Twitter!