Bernie Ecclestone turns 90 today (October 28). We talked to him about Hamilton, Vettel, Senna, Schumi and others
Authors: Ralf Bach und Bianca Garloff
Mr. Ecclestone, our congratulations on your birthday. How do you feel now at 90 years of age?
Bernie Ecclestone (90): Very well, thanks for asking. I do not feel the age. My little son also keeps me on my toes.
Formula 1 is your life's work. You have made it the global sport that it is now. How much are you still involved?
Of course I still have many contacts, a lot of people still ask me for advice. The new marketers are not among them. But of course I still watch every race. The last one was in Portugal.
Did you enjoy it?
Frankly, no. It seemed artificial, without atmosphere. It's just not very nice to drive in front of almost empty grandstands.
And sport-wise?
Those who are always in front were this time as well.
It sounds as if you were bored.
Not bored. But since the hybrid engines came along, Mercedes has been unbeatable. I agreed to the engines back then, but after a short time I realized what a big mistake it was. I wanted to change it again, but I fell on deaf ears.
Nevertheless: How do you rate the performance of Lewis Hamilton?
Lewis deserved it. He has always beaten his teammates, except in 2016. He makes almost no mistakes. But I compare him to a poker player who knows that he has four aces in his hand. You can play poker while the others sweat. I would like to see him on a team with a Max Verstappen. The question is whether he would then make as few mistakes as possible.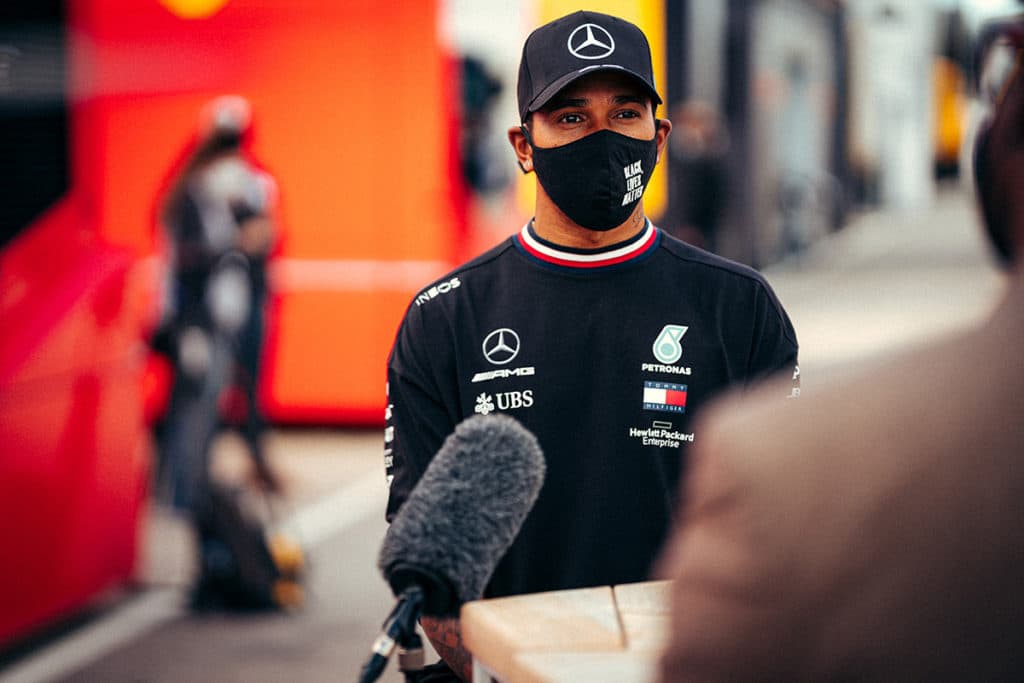 Hamilton has now broken Michael's record of victories. He will also match him in the number of World Championship titles. Is he now the best of all times?
Lewis belongs in the ranks of the best, without question. And so does Michael. But who is the best in the end can hardly be answered. You can hardly compare Michael, Lewis or Ayrton Senna. Before the Second World War, people told each other true miracles about a Bernd Rosemeyer. In the 50s Juan-Manuel Fangio won five world championship titles and he is still ahead in terms of victory rate. What would have happened if Jim Clark or Ayrton Senna hadn't had an accident so early? Or Jochen Rindt, who for me personally was the fastest, had had competitive cars earlier in his career? With his four world championship titles, Alain Prost is also very high in my ranking. And also Sebastian Vettel. Not so long ago, he was also at the top of the eternal leaderboard. Now, unfortunately, hardly anyone talks about him positively. In Formula 1 a driver is still dependent on his car. And his Ferrari does not seem to suit him very well at the moment.
Is team mate Leclerc that much stronger?
Leclerc is certainly a huge talent. But so was Sebastian Vettel, and he still is. And Vettel has more experience. So he should actually be in the lead. But since he is not, there must be other reasons. Ferrari has always been a somewhat transparent team where domestic politics always played a major role. Actually, it was only at the time of Michael Schumacher that everyone was pulling in the same direction. Fortunately Sebastian Vettel has a new challenge next year at Aston Martin. There he will give the answer to the doubters who no longer believe in his abilities this year.
Do you still talk a lot with Vettel?
Yes, we talk on the phone a lot. I listen to him and then give him my assessment of things. I also helped him make the deal with Aston Martin work.
In what way?
I really put pressure on team owner Lance Stroll to take Sebastian. I told him how good Sebastian still was and that in the end it would be a win-win situation for everyone if the deal went through. I think my arguments helped convince him.
How did you actually come to lead Formula 1?
I have always been fascinated by motorsport. I also attended the first Formula 1 race in Silverstone in 1950, and later I wanted to drive myself. But I was too slow in Monaco in 1958. Therefore I wanted Stirling Moss to drive my car for me with my helmet. But the race commissioners somehow got wind of it and paid too much attention. So I decided that my talent lies more on the pit wall and less in the car. I worked together with Jochen Rindt and finally bought myself a team. The others then thought I was the right person to represent them. So I did that then. It was completely clear to me that most of the money could be earned with TV rights.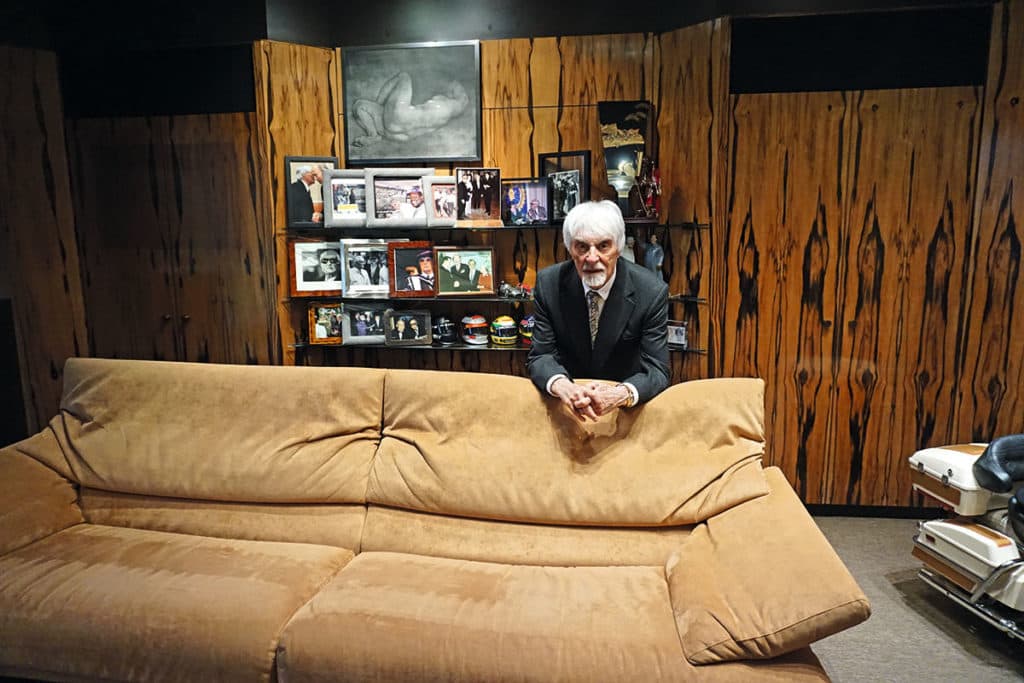 Do you remember your first deal?
The legendary final in Fuji in 1976 was the first race that was broadcast worldwide and made real money. And it almost fell through. Fortunately, they did and James Hunt became world champion. For years, Niki Lauda accused me of insisting on holding the race because of the television contracts. That would have cost him the title. Anyway, Fuji 1976 was the initial spark for the success we had then.
What was different then than now?
Back then, the drivers drove with pure passion. They risked their lives on every lap, but they simply ignored that. The feeling that the next race could be the last one welded them together. They were like comrades who went into battle together.
What were your worst experiences?
There was a lot. Every time you lost a driver, you had to fight your grief. Imola 1994, when Roland Ratzenberger and Ayrton Senna had a fatal accident, was certainly extremely bad. And for me personally of course Monza 1970, when my friend Jochen Rindt died.
Can you still remember it?
Yeah, like it was yesterday. I ran as fast as I could to the accident site. They were transporting Jochen on a stretcher. I saw it and knew immediately that it was over. I grabbed his bloodied helmet and went back to the box in tears. I had to talk to Nina, his wife. That distracted me from my own grief. Because I was completely desperate. Jochen was not only my friend, he was also my business partner. We still had so much to do. I'm sure that later we would have run Formula One together. I'm sure of it.
How would you describe Michael Schumacher?
You could trust him. If you gave him a job, you could be sure that he would do it. He raised the limits for other drivers again. In every respect.
Was the comeback at Mercedes good for him?
Not as good for him as it was for Formula 1, but he knew that, like with Ferrari, he first had to build up his business. That's what he did. And it's almost tragic that of all people, the one who is now profiting from it is the one who is just beating one record after another.
So Lewis Hamilton…
Exactly. But also Toto Wolff and all the others. I don't want to belittle the performance of all involved, but in 2014 they only had to get into the bed that Ross Brawn and, among others, Michael made for them. The real achievement then was rather to maintain the level. I think Niki Lauda played a big part in that. But, as I said, the Mercedes engine was already more than half the story.
What do you think about Mick Schumacher?
From what I can see, he is a very nice boy who does a good job. He will be driving in Formula 1 next year. But you can't expect too much from him. The story of his father cannot be repeated.
Can you compare the two?
I don't know Mick enough for that. What's striking is that he always makes the breakthrough in his second season. That was different with his father. He was immediately extremely fast and left a powerful mark. I can still remember his first training session in Spa, when he came out of nowhere with the Jordan and made it straight into the world elite. Not only was he extremely fast, he had to go to the race commissioners after his first free practice. Michael was of the opinion that Alain Prost had blocked him and then slowed him down for revenge. Good Alain couldn't really believe it. I rubbed my hands because I saw: This is exactly the German I wanted. Fast, icy cold, disrespectful – someone who knew exactly what he wanted.
Perhaps Germany will have a third driver in the field in 2021 with Nico Hülkenberg. Do you know him?
Yes. He's fast, smart and always says what he thinks. Not like most other drivers who just parrot what the teams tell them to do. Red Bull should take him because he's the right type for them. But the most important thing is that he can deliver results because he is very strong in his head. You have to be able to do that alongside Max Verstappen, because the boy is a real force of nature.
Thank you, Mr. Ecclestone, just one more request: Can we meet again in ten years on her 100th birthday?
Bingo, we'll do that.
Translated with www.DeepL.com/Translator (free version)
FOLLOW US ON TWITTER!