Sebastian Vettel could switch to Aston Martin in 2021. But for this, the Renault protest must first be negotiated
Sebastian Vettel (33) is on the brakes, at least as far as his future is concerned. "I'm not putting myself under pressure," said the still Ferrari star on the fringe of the Hungarian Grand Prix. And I haven't decided anything yet."
The hesitation of the four-time world champion has several reasons. Vettel: "I would like to continue if the conditions are right. If not, I don't want to just go around and make money. That was never my motivation." That means: The sporting perspective must be right.
At the moment, this is looking rosy at Racing Point. The team drives with a Mercedes engine above Ferrari level, becomes the Aston Martin factory team in 2020 and wants to expand the cooperation with Mercedes even further. James Bond would say: You only live twice.
In addition, team boss Otmar Szafnauer is already strewing roses around Vettel – although he does not want to confirm negotiations. "I know Sebastian very well in private. He's a great guy, can win, is a world champion. An asset to any team."
But is Racing Point an asset to Vettel's career? To know that, we have to wait for the outcome of Renault's protest against the Silverstone-based team.
Renault's suspicion
The suspicion: Racing Point has copied certain parts, which are actually on the banned list, 1:1 from Mercedes. Already since winter testing the RP20 is called "pink Mercedes" because of that.
Renault's head of engineering Marcin Budkowsky: "We believe Racing Point received drawings and parts that were used to build this year's car." Specifically, in this case he means the brake ducts. The Ex-FIA-technician continues: "You can't see them from pictures. It's difficult to copy something like that when you only have one picture in front of you. If the FIA finds out that the brake ducts are the design of another team, I would expect them to check the rest of the car as well."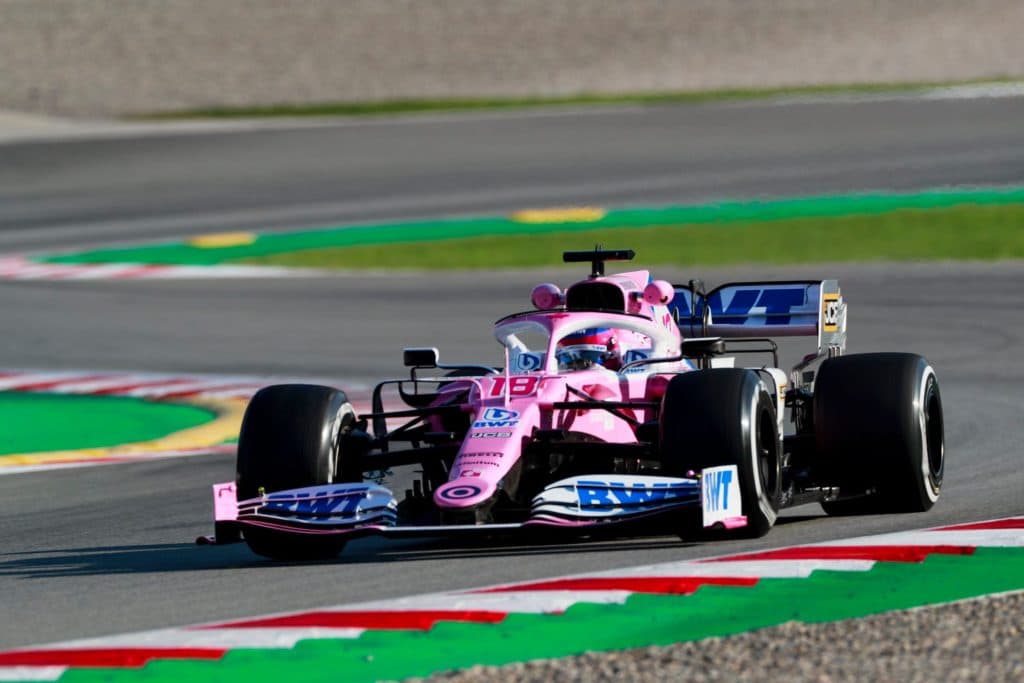 F1-Insider.com heard: Behind the scenes it is already rumored that Racing Point had an original Silver Arrow from 2019 available to reproduce the car accordingly. The possible traitors are said to be three dissatisfied Racing Point employees who switched to Renault. Whistleblowing is also a hot topic in Formula 1. None of this can be proven at present. Especially since the brake ducts could still be purchased in 2019. They have only been on the list of parts that a team has to design itself since 2020. And: Since when is it forbidden to copy?
But the speed of the RP20 causes raised eyebrows. Red Bull advisor Helmut Marko to F1-Insider.com: "When you see that Perez in Austria flew through the field like a hot knife through butter, it shows what potential the car has. I think a Vettel would get even more out of the car."
Racing Point, however, is confident of victory: "Compared to last year's Mercedes, the brake shafts will show that this part was designed exclusively by us," confirms Otmar Szafnauer. All other parts had already been examined before the start of the season. Racing Point was able to prove that they had relied solely on photographs.
The pressure is great
But the pressure is great. Other teams are now getting involved as well. For McLaren team boss Andreas Seidl, the FIA judgement becomes a fundamental decision. "The protest helps to clarify how the FIA and Formula 1 want to have the top class in the future," he emphasises. "Do they want Formula 1 to become a copy championship? A championship in which there are only two or three constructors or manufacturers and the rest drive customer cars?" For Seidl that would be the wrong way.
For Vettel, however, the FIA judgement also determines whether the overall Aston Martin package is worthy of a four-time world champion. Because regardless of possible penalties, which have no direct influence on 2021, Aston Martin will either receive a free ticket for an even more intensive cooperation with Mercedes.
Insiders are already talking about the plan for a kind of four-car team consisting of two Silver Arrows and two James Bond racers, in which Vettel might even have a chance of winning. Like in 2008, when he won in a Toro Rosso, which was actually a Red Bull.
But it could come different too. If Racing Point loses the case, the team will have to remove all the supposed Mercedes parts and build its own car for the next few years.
Sky expert Ralf Schumacher can therefore put himself in Vettel's shoes: "If something goes wrong because of the Renault protest, it would not be good for either Mercedes or Aston Martin/Racing Point," he says.
Vettel should therefore not commit himself too early. Schumacher: "What will happen to the team in the future? Will Mercedes really remain in Formula One as a factory team? Or will Aston Martin become Mercedes? Will even the current Racing Point team perhaps be sold again to another billionaire who wants his son in Formula One at all costs? There are still a few question marks left, so I think Sebastian wants to wait and see what happens now."
Vettel plays poker at Casino Royal. A FIA-decision is not expected before the next race in Silverstone.
Translated with www.DeepL.com/Translator (free version)
FOLLOW US ON TWITTER!