Ralf Schumacher talks about his broth Michael, Sebastian Vettel and Ferrari in AvD Motorsport Magazine
With six victories, Ralf Schumacher is still the third most successful German Formula 1 driver of all time. In the AvD Motorsport Talk yesterday he met with F1-Insider.com chief editor Ralf Bach for a chat about old and current times.
Schumi II talked about his big brother Michael, the burden of the name, Sebastian Vettel's crisis at Ferrari and Nico Hülkenberg's jump into the deep end at Racing Point. We have the best statements:
Ralf Schumacher about…
… Sebastian Vettel's spin on the first lap of the Silverstone race: "I can only explain it by the fact that Sebastian felt that the Red Bull was taking away his place because he also gave in, and so he drove very sharply and very far over the curb and then probably had a bad touchdown. But of course he wanted to avoid a crash in the first corner to get into the race and he just spun. On the one hand, that was a driving mistake and should not have happened, and of course it was a pity again, because from then on the race was already over.
… Vettel's situation at Ferrari: "The situation is highly unfavourable. It started with the team announcing at the beginning of the year that they no longer value their services – and even worse, the Ferrari president has put a partial blame on Sebastian. I think that there is no trust at all and of course I understand the frustration. Nevertheless, we must also distinguish between what happened today. The whole last weekend Leclerc was faster and this weekend he was also faster. He made it to the podium last week, and that Ferrari is now of course trying to get everything out of it that can be done and therefore has to get Sebastian out of the way, even if I don't like it from a German point of view, I would probably have decided the same as team boss. I'm sorry about that at this point, but it is."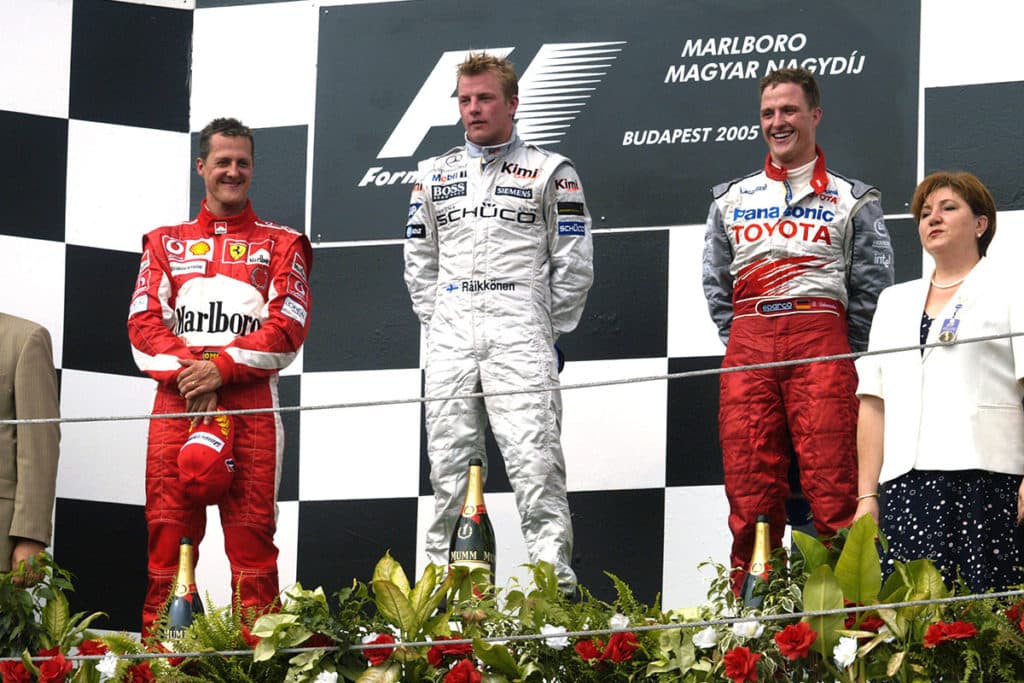 … Vettel's future and a possible end to his career after the season: "The decision will be very important, what will happen with all this discussion about quasi-copying or the question: How much is one manufacturer allowed to give to another? Once this has been clarified, and I think that this can be done, it would also be partly in the spirit of Formula One to allow other teams to obtain technology at relatively low cost, then this would open up completely new things for Sebastian. Also with regard to the manufacturer's reaction at the moment: We are in a difficult phase, every automobile group is currently questioning itself. I wouldn't say that every manufacturer is equally set in stone for the coming years. So it would be a pity to throw in the towel now. I can imagine that Sebastian doesn't really want to go like this and he doesn't deserve it. The most important thing now – and I've done that, I've changed teams at times: You come in and suddenly feel like a stranger, that's just the way it is. You suddenly question things, you find them funny, you don't feel comfortable anymore. This feel-good factor in addition to the problems with the car is now also added – and of course Leclerc has now also taken this development over and is driving a little faster. There are now many factors. I wish Sebastian that he will get back on a track where he feels more comfortable, then he will be able to show his potential better and maybe get one or two good results for his future – because I think it would be a great pity if he left us now.
… the comparison between Vettel's starting position at Ferrari and that of Michael Schumacher once: "You can't compare the team of then and now. Michael also made it as world champion, but Ferrari was of course really in a dry spell at the time and desperately needed a world champion. Michael knew very well – and I don't mean to imply that Sebastian can't do that – what he wanted, and also had very good advice. And of course he was very lucky that all the guys from Benetton went with him, plus of course that Jean Todt came along, who first of all banned red wine from Ferrari during the lunch break, which was still allowed at that time – and then he had all possibilities to arrange that. Whether Sebastian also has these possibilities, I doubt it."
… the performance of Nico Hülkenberg as reserve driver at Racing Point: "First of all, this task was an insane one, and he solved it perfectly on the second weekend, faster than anyone else can do it so easily. This is due to his talent, which he has proven many times, even though he was not on the podium just now, the poor guy. But that has nothing to do with his talent, he was always in the wrong car at the right time. That's the way it is in Formula One. I'd go that far: If the whole thing had been on the Red Bull Ring before, then he would have been on the podium, because there he could have used the strength of the car much better. But here, the car simply wasn't there. In qualifying, where it was possible, he was able to do that."
… the shadow of his brother at the beginning of his Formula 1 time and the relationship between the two: "Actually, the questions about it were more annoying than the actual situation because you've got to imagine it that way: We were two guys from a hole, a go-cart track in Kerpen. One of us gets into Formula 1 and the other one somehow has the desire to do so. My father always said to me: 'Are you crazy? Two? You'll never make it. Please learn something decent, become a cook or take over the snack bar at the go-cart track sometime, because you can live on that – and stop believing that there can be two of them. I've been very lucky, it's had a lot of advantages. Michael got to know Willi Weber, Willi Weber had the best Formula 3 team at that time and I was allowed to drive for him. And of course the management: "This opened doors from which I benefited. Therefore, I've got to be honest: I didn't really have any disadvantages. The only disadvantage I had: I had many prejudices. With journalists coming up to me, and when I was young and impetuous, and sometimes stupid, like any 16-, 17- or 18-year-old, it was just as arrogant. Things I did were arrogant. Things others did were funny. At some point, a cycle developed out of this, so that I was not quite so positively disposed towards the media. Of course I would do that differently today, but that's the way it was. But a shadow from which I wanted to get out? Never! I was always insanely proud of my brother and I still am today, of all that he has achieved. There is no envy in our family, quite the contrary. We were really very, very lucky that we were allowed to live the life we have today and what we have achieved. It's all great for both of us."
… the expectations of the Schumacher offspring, especially Mick Schumacher: "I think that the kids put almost more pressure on themselves than they get from outside to some extent, because they are managed quite well from the outside. But of course, especially in the case of Mick, who drove a Formula 1 car a few times and is now active in Formula 2 as a Ferrari Junior, Mattia Binotto has already expressed his ideas in this way. He's so close to the subject now that he naturally puts himself under pressure. And from the outside, expectations are high, but I think he's doing very well in the last races."
Follow us on Twitter!