Robert Kubica gives his long-awaited race comeback in Formula 1 this weekend in Melbourne Australia. Nine years after his rally accident, he is back and competing for Williams.
Robert Kubica (34) has only a wryly smile for the constant speculation about him.
"I'm no longer interested in what other people think in the paddock. If you need a friend in Formula 1, buy a dog," says the Pole – and yet, he knows that gossip and rumor mill will only grow over time. Like Lewis Hamilton, Sebastian Vettel or Max Verstappen, he will have to deal with being in the focal point of the inner clique, the influencers, of the F1 circus.
Nine years after his involuntary exit from Formula 1, Robert Kubica returns to the premier league of motorsport. From 2006 to 2009 he drove for BMW Sauber and celebrated his only Grand Prix victory in Montreal in 2008. In 2010 he was under contract with Renault. Now Kubica sits in a Williams after 3,045 days of abstinence.
His comeback polarises and divides the Formula 1 community into two camps. Some speak of a miracle, others call it madness.
Kubica's fans admire the devout Catholic, who in his time at BMW always had a photo of the 2005 deceased Polish Pope Karol Józef Wojtyła (John Paul II) in his cockpit. For them, it's a miracle that Kubica can race again.
Flashback: February 6th, 2011. At the rally, "Ronde di Andora" in Italy, in which Kubica competes as a guest contestant, he crashes during the first stage. This happened just a week after F1 testing for the new season.
In Testico, Kubica gets off track with his Skoda Fabia S2000, bouncing against a church wall and guardrail that drills into his cockpit. While his co-driver remains uninjured, Kubica's right hand almost snaps off, breaking his right arm and right leg. The Pole loses a lot of blood and remains in intensive care.
The doctors can save his right forearm in several surgeries, sewing back on his hand. But his racing career seems to be over.

"That was the worst thing for me then. But after some time I decided to try again despite all the negative predictions," recalls Kubica today.
In 2011 he has to rest, he secludes himself completely that year. In early 2012, he slips and breaks his injured right leg again. One more year to rest for him. But Kubica fights and gets back into a rally car. In 2013 he competes in four European Rally Championship races and seven of the WRC 2. In 2014, he wins the Ronde Ronde Gomitolo di Lana.
"It was just a small rally," recalls Kubica, "but it was important to me that I could still use my right arm. I had found a way to adapt my driving style so that the weakened right hand was no big obstacle."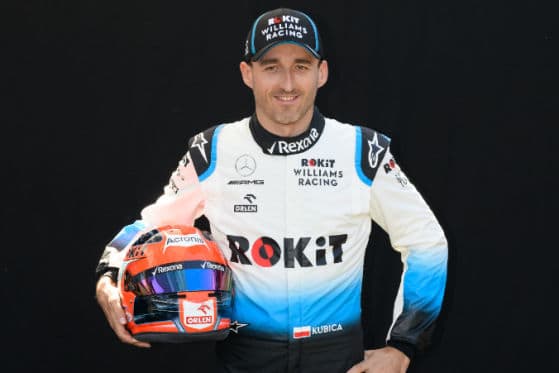 So he came back a little closer to his big goal of driving for F1 again. But it took until 2017, before Williams offered him a test drive after the last race in Abu Dhabi.
The subsequent media storm was huge. Kubica was prepared for being in the spotlight again. Already during his intense fitness preparations on his bike journalists and photographers followed each of his progress in great detail.
When he returned to the hotel, he raised his crippled right hand in a greeting gesture and asked the crowd of journalists and photographers: "Why are you all here? Is the American President here for a state visit?"
Das Cockpit bekam Kubica 2018 nicht, Williams gab ihm einen Vertrag als Testfahrer und das Cockpit Sergej Sirotkin. Der Russe fuhr nur einen kümmerlichen WM-Punkt ein, Williams wurde Letzter in der Teamwertung und korrigierte deshalb den Fehler 2019.
Kubica didn't get the cockpit for 2018 – Sergei Sirotkin got it. Williams just offered him a contract as a test driver. The Russian claimed only one miserable point for that season and came in last of all teams. In 2019, they decided to correct that error from 2018.
Chief Technology Officer Paddy Lowe's justification sounds like an apology:
"Not to drive any Grands Prix for the entire season of 2018 has been a disappointment for him. In the meantime, we got to know Robert better. We now know what he can contribute and achieve. So we came to a different conclusion this time around than twelve months ago. "
"We had to take into account his physical limitations. But one year of work with him has made us realize that Robert is capable of top performance. His driving competence was never in question, nor his devotion. And I do not think about the injured arm anymore. Maybe people outside the racing team will continue to talk about this, we've already moved on."
The critics see in Kubica's return a security risk. Because he can't really grab the steering wheel with his right hand like a top driver would, he pushes or pulls more with the left. "What if he has to avoid an obstacle at the start with an abrupt maneuver?" asks former World Champion Jacques Villeneuve. "I doubt that this can be done with the power of one hand alone. And if there is a serious accident, the screaming and finger pointing will be great afterwards."
Former Williams driver Juan Pablo Montoya has a similar view:
"Honestly, the whole thing is a joke. I'm sure Robert is no longer one hundred percent capable of pushing a Formula One car to the limit."
Robert Kubica ("I know what I can") prefers to listen to pilots who believe in him. "Robert is one of the most talented pilots I ever drove against," says Lewis Hamilton, "he absolutely deserves the cockpit." And Fernando Alonso (37) is convinced: "If one can manage it, then Robert. He has a will power that I would call inhuman. "