Sebastian Vettel's Friday was not exactly successful. To place 16 in FP2 was added another refusal for 2021
It is the most difficult moment of his career. A glance into the history books doesn't do much for Ferrari driver Sebastian Vettel (33). He has won four world championship titles so far, 53 times the German saw the chequered flag as a winner, 120 podium places, 38 fastest laps and 57 pole positions round off the picture book career that makes him the fourth most successful driver in the 70-year history of Formula 1 behind Michael Schumacher, Lewis Hamilton and Juan-Manuel Fangio.
In football he would thus have the status of Franz Beckenbauer or Johan Cruyff.
Still he cannot buy anything from the extremely successful figures. The bitter reality is that Vettel is going through the lowest point of his career. Bitter, unbelievable and yet true: Next year, the successful German, still at the height of his career in terms of age, will not have any seat in the top class of motorsport. On the contrary: After Ferrari announced in May that the team no longer wants to work with him in the future, he has to take one low blow after another.
As if an invisible magnet still wants to pull him deeper into a hole.
VETTEL'S STRUGGLE WITH THE FERRARI SF1000
First came the completely messed up season opener last week, from which he had to straighten up. Vettel struggled with a slow and difficult to drive Ferrari, made a mistake when he refused to accept the impossible, and in tenth place scored just a measly point. Worse still, team-mate Charles Leclerc drove the red bitch to the podium in second place, with luck and skill.
READ MORE: VETTELS MARRIAGE PROPOSAL TO RED BULL
But this was far from being the low point. His hopes of returning to Red Bull as a prodigal son in 2021 – the team with which he won four consecutive World Championship titles between 2010 and 2013 – were dashed on Wednesday morning during a conversation with his confidant Helmut Marko (77). The Red Bull chief advisor, who maintained an almost fatherly relationship with his foster son even during Vettel's Ferrari days, had no choice. Whether he wanted to or not, he had to tell him that Red Bull would not grant him sporting asylum. For him the borders would be closed. Forever.
And it are not only business constraints that are the reason for the ban on entering Red Bull land. Officially it is said that number two pilot Alexander Albon, more adjudant than teammate of wonderboy and Red Bull favourite Max Verstappen, has a permanent visa for the promised Dietrich-Mateschitz land because he has a Thai mother and Thai passport and is sponsored by the Thai family, which owns 51 percent of the billion-dollar beverage company.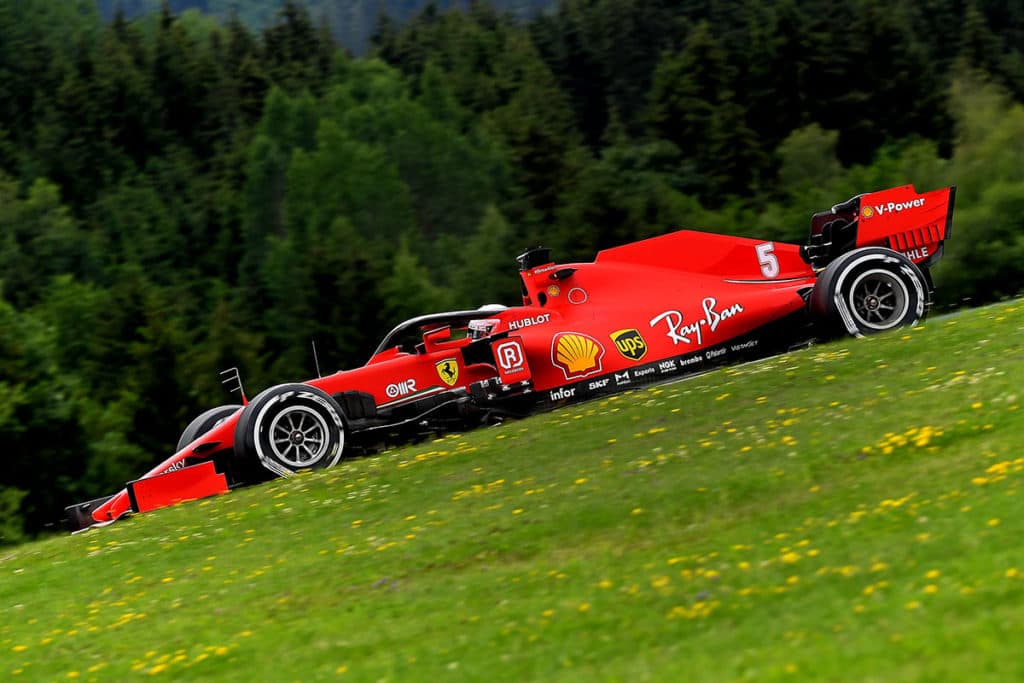 But that is only half the truth. F1-Insider.com also knows: Vettel did not make the biggest mistake on the track, but in real life. A source close to Red Bull boss Dietrich Mateschitz says: "Sebastian neglected to inform Mateschitz in advance that he would switch to Ferrari. That made Mateschitz very angry." With the consequence: The Austrian, a man with an elephant memory, who leads his empire dictatorially despite the looseness he carries to the outside world, has never forgiven the perceived betrayal of his former success bringer.
REFUSAL FROM FORCE INDIA
The fact that Racing Point Vettel today also made a refusal (team boss Otmar Szafnauer: "It is flattering that we are associated with a four-time World Champion. But we have long-term contracts with our drivers. So it's only logical that we don't have a place"), fits only too well into the current picture of the former lucky boy, who became a bad luck charm within a few weeks.
Vettel has to face reality, which at the moment means he won't have a cockpit in F1 in 2021 and will have to think about taking a year off or saying goodbye to Formula 1.
But there is one more piece of good news: With Mugello and Sochi two additional races were added to the corona-conditioned shortened Formula 1 season. This gives Vettel at least nine GPs, including the race on Sunday, time to bid a dignified farewell to F1 and Ferrari. He intends to do the same: "It is important to understand the car better and better. I will give everything I can, my boys deserve that. It's not my style to run away when things get tough."
It does not look good for Sunday. With a new underbody and front spoiler, Vettel was a tenth of a second quicker than team-mate Leclerc in the first free practice session and finished tenth two places ahead of the Monegasque Ferrari favourite – but that was only a minor matter in the second session.
Because the man from Heppenheim drove too far over the curbs on his fastest lap and the race stewards therefore cancelled his laptime, he was only 16th at the end. Twice as bitter: The second practice session could form the starting grid for Sunday due to the weather. Reason: The weather forecast predicts heavy thunderstorms for Saturday and Sunday morning. If the qualifying could not be held, the result of the second practice would be counted for the starting grid. After all: The car is driving "much better than last week" and also the updates have a "positive" effect, Vettel said.
It can only get better for him anyway. His confidant Bernie Ecclestone (89) advises him to stay cool now. The ex-Formula 1 boss to F1-Insider.com: "In Formula 1, anything can happen. He just has to keep doing his thing and keep believing in himself."
F1 racing boss Ross Brawn is also encouraging the German. Ferraris ex-technical genius explains his philosophy of life, which Vettel should now cling to: "Happiness is nothing more than being well prepared when unexpected doors suddenly open."
Translated with www.DeepL.com/Translator (free version)
FOLLOW US ON TWITTER!