Seven world championship titles, Lewis Hamilton has now caught up with Michael Schumacher. In other statistics he is already better. That's why he deserves to be called the best driver ever
Seven World Championship titles. 94 victories. 97 pole positions. Is Lewis Hamilton now the greatest Formula 1 driver of all time? Is he better than Michael Schumacher? Schumacher's legitimate successor Sebastian Vettel (33) was the first to congratulate the British driver on the Silver Arrow in the Parc Fermée in Istanbul. He took time to congratulate Hamilton, shook his hand, patted his helmet.
More to read – Schumi II: "Seven titles do not go by without a trace"
Afterwards, he perfectly put the Mercedes star's performance into words. "I told him that it's special for us (the other drivers; the editor) because we are part of how history is made," Vettel revealed. "He is the greatest of our era. How can you compare for example Juan Manuel Fangio and Stirling Moss to our generation? You can't. Probably we would be useless in their time, because we would shit ourselves in their cars. Maybe they could not handle our cars because they are much too fast. But that doesn't matter. Every era has its heroes. Lewis is the greatest driver of our era. To me emotionally Michael will always be the GOAT, but Lewis is certainly the Greatest, regarding to what he has achieved. He has more races won, much more pole positions."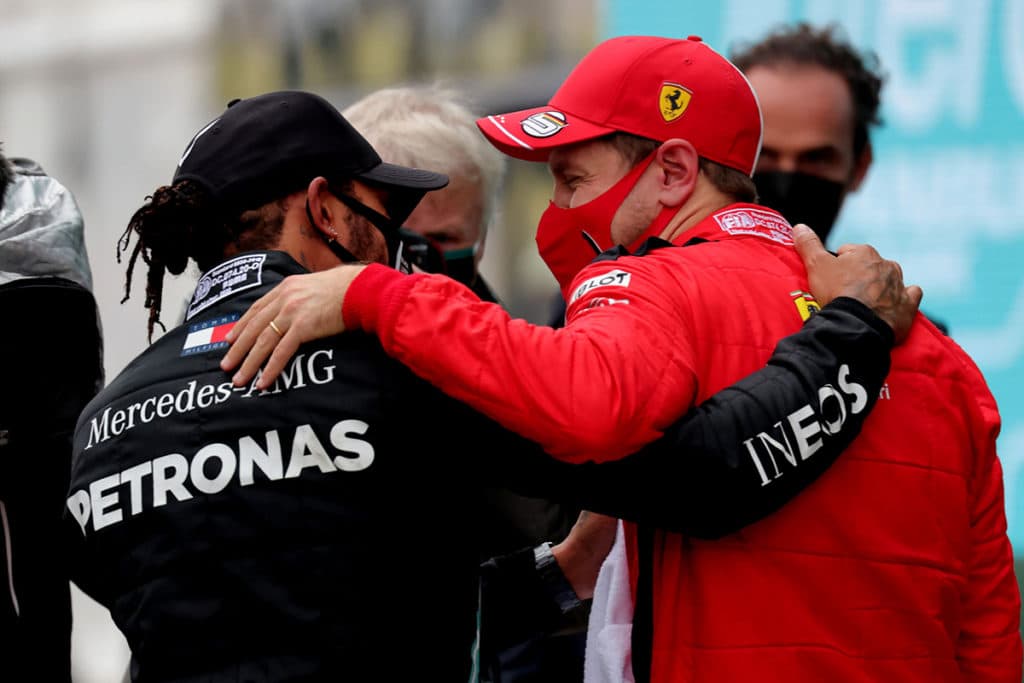 Sure: From a German perspective, Michael Schumacher will always be the best Formula 1 driver of all time. Emotionally for most fans in Germany anyway. But rationally speaking, the Mercedes star has now overtaken the German record world champion. And rightly so. The best yardstick is always the duels with his team mates. And there the Briton defeated double world champion Fernando Alonso in his first Formula 1 year, later the reigning champion Jenson Button (both at McLaren), at Mercedes twice Nico Rosberg, and since then he has been dismantling Valtteri Bottas.
What also makes a great champion: He fights for more than just victories and titles. Lewis Hamilton wants to make the world a better place. Looking beyond one's own nose is an important characteristic of great champions. Hamilton stands by his values. The Briton drives fair and he acts fair. Without any scandal, he raced to his seven World Championship titles. No nasty jostling on the track that follows him. And no derailment beside it – although Hamilton, as a party animal, could have put his foot in one or two mistakes in the early stages of his career.
The dethroned man himself gives absolution for the fact that the man from Stevenage deserves the label of "best Formula 1 driver of all time". Michael Schumacher in an interview in 2008: "Records are there to be broken. And whether Lewis, Felipe Massa or Sebastian Vettel can do it. I take a fairly relaxed view of that. I would never have thought that I could beat Fangio's five titles."
This is what the Formula 1 world says about Hamilton:
Max Verstappen praises: "As far as pure statistics go, he is the most fabulous Formula 1 driver. And as for his team: Anyone who dominates like that over such a period of time deserves every victory."
Mercedes team boss Toto Wolff: "You only have to look at what he did today, he was hungry like a lion. In the end, he drove on slicks, so to speak, despite the risk of rain. I don't see any sign of a loss of motivation."
Nico Rosberg: "Seven times world champion – that's madness! This is certainly one of the greatest achievements in the history of sport. Congratulate Lewis and enjoy the celebrations with your family and friends."
Translated with www.DeepL.com/Translator (free version)
Follow us on Twitter!