Max Verstappen has long been considered a superstar of Formula 1, but how long will he wait before he can challenge Lewis Hamilton?
Will Red Bull driver Max Verstappen (22) soon lose patience with his team? After his retirement at the GP of Tuscany, one could suspect so. Angrily, he threw the steering wheel out of the car and stomped back into his pit like a wild bull in a helmet.
More to read: Comments on the Vettel transfer!
The frustration comes from his self-confidence, which makes him feel like he's not doing well: He can beat anyone with equal weapons, even Lewis Hamilton! "No matter who they put next to me," the youngest GP winner of all time is convinced, "I will beat them all. Verstappen's image in the premier class is now so good that hardly anyone contradicts this statement.
But: Red Bull cannot keep up with Mercedes this season either. In the Red Bull, the Hamilton hurdle for Verstappen is too high. That's why, as F1-Insider.com learned, the Dutchman would rather drive in a team with the British series winner today than tomorrow. He is determined to prove that he is already the best.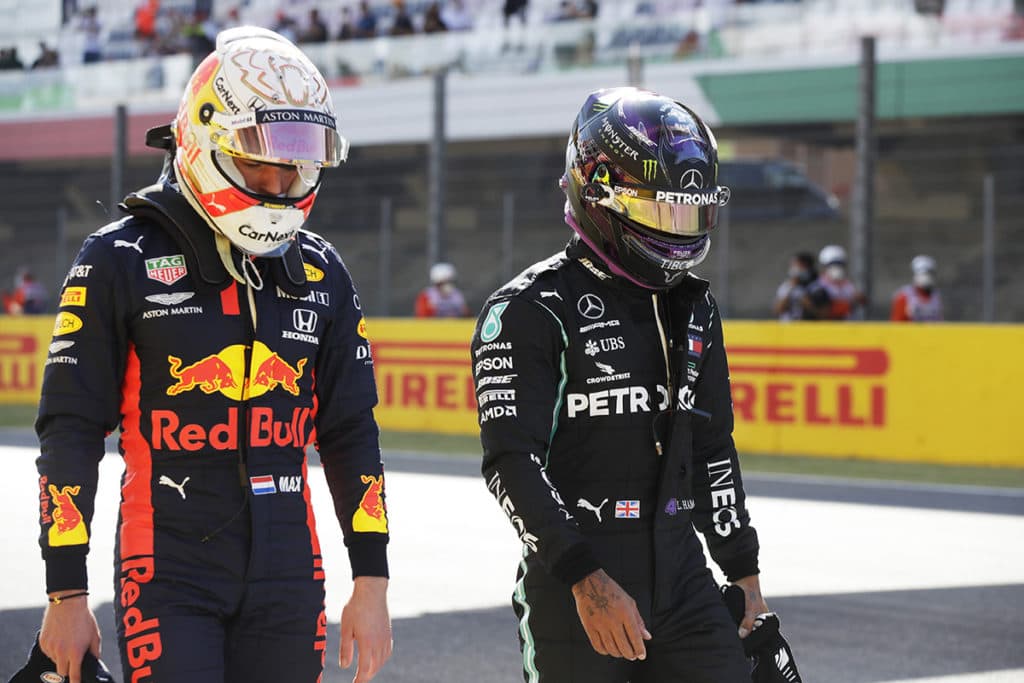 Theoretically this is still possible. Hamilton has still not renewed his contract with Mercedes, which expires at the end of this year. Verstappen would not mind if Red Bull were to sign him for 2021. So he could beat him with equal weapons and become world champion in 2021. If not, it will be difficult. "Corona has frozen the development opportunities for next year," says the Dutchman, "maybe we can get closer. But we can hardly beat them.
The frustration is so deep that Red Bull's engine partner, Honda, is already getting the brunt of it. Verstappen has had the same engine problems twice in a row, he curses publicly. "This is unacceptable." One thing is clear: The honeymoon with Honda is over, the tone is getting rougher. Only Red Bull chief motorsport consultant Helmut Marko remains (still) calm. "Honda has made progress, but Mercedes is still superior, especially in the area of batteries. We have to start there now." Marko explains the two engine problems at F1-Insider.com as follows: "Honda has replaced engineers. Maybe that's why there were the unexpected difficulties."
One thing is certain: Marko doesn't have it easy at the moment. He has to satisfy Honda and keep his best rider on the line. In addition, Honda has so far only committed itself to Formula 1 until 2021. Some insiders, such as former Formula 1 boss Bernie Ecclestone, assume that the Japanese could end their F1 involvement at the end of 2021. Marko: "The decision should be made at the beginning of October.
It doesn't matter if the decision is postponed. He finally wants to have equal weapons to challenge Hamilton. The earlier the better. Marko also knows this: "Actually, Max has a fixed contract for 2021, but we are well aware that we also have to provide him with a competitive engine. Competitiveness is defined in numbers like this: The engine must not lose more than three tenths of a second per lap to the competition. On tracks with long straights Honda is currently losing more to Mercedes. Just like at the next race in Sotchi on Sunday a week from now.
The Japanese must now definitely show better performances. Also because of Verstappen.
Translated with www.DeepL.com/Translator (free version)
Follow us on Twitter!