Alex Albon again cannot keep up with Max Verstappen. The Dutchman openly wishes for a new team colleague at Red Bull
Red Bull pilot Alexander Albon (24) is not to be envied. Ever since Red Bull Motorsport Director Helmut Marko (77) declared a three-tenths gap to team-mate Max Verstappen (23) as the yardstick for the Thai driver's attitude to the job, Albon has been driving every qualifying session and every race under the hot burning glass. In Portugal, Albon actually did quite well. A sixth place on the starting grid is not bad reading. Alone: The renewed half-second gap to his teammate weighs more heavily than the three grid positions that lie between the team mates. "That's too much," was the clear message from Sky expert Nick Heidfeld.
More to read: Vettel doubts his car and himself
One thing is certain: After qualifying in Portimao, Albon has moved a little further away from extending his contract with Red Bull. In the race on Sunday and the following five after that, he will have to put in an extraordinary performance to get back into business.
That will be hard enough. The more difficult the Red Bull is to drive at the limit, the faster it is. Because Verstappen can handle it, the car is developed according to the needs of the exceptional talent. Albon can no longer keep up with this. This is also confirmed by Marko: "Whenever the car causes problems, Albon has difficulties," says the doctor of law.
Red Bull protects Albon
But Red Bull is still protecting its Thai driver. "He is still our first option for next year," team boss Christian Horner points out. But: Nobody really wants to believe that anymore. It is becoming increasingly likely that Red Bull owner Dietrich Mateschitz will have to make a decision – he also has the last word in driver matters – to jump over his own shadow. Because the beverage company's junior program for 2021 does not yet have a young driver who has what it takes to drive alongside Verstappen at Red Bull Racing, he would have to hire a driver from outside the Red Bull cosmos.
According to chief consultant Helmut Marko, two names are at stake: Mexican Sergio Perez, who was sent into the desert at Racing-Point for Sebastian Vettel, and German Nico Hülkenberg. The Emmericher has a lot to offer in terms of sport. But in order to sign him, Mateschitz would at least have to stand by the other iron law that Red Bull has imposed on itself: never sign up a so-called pay driver. In other words, a pilot whose most powerful arguments are the money his sponsors put in his backpack.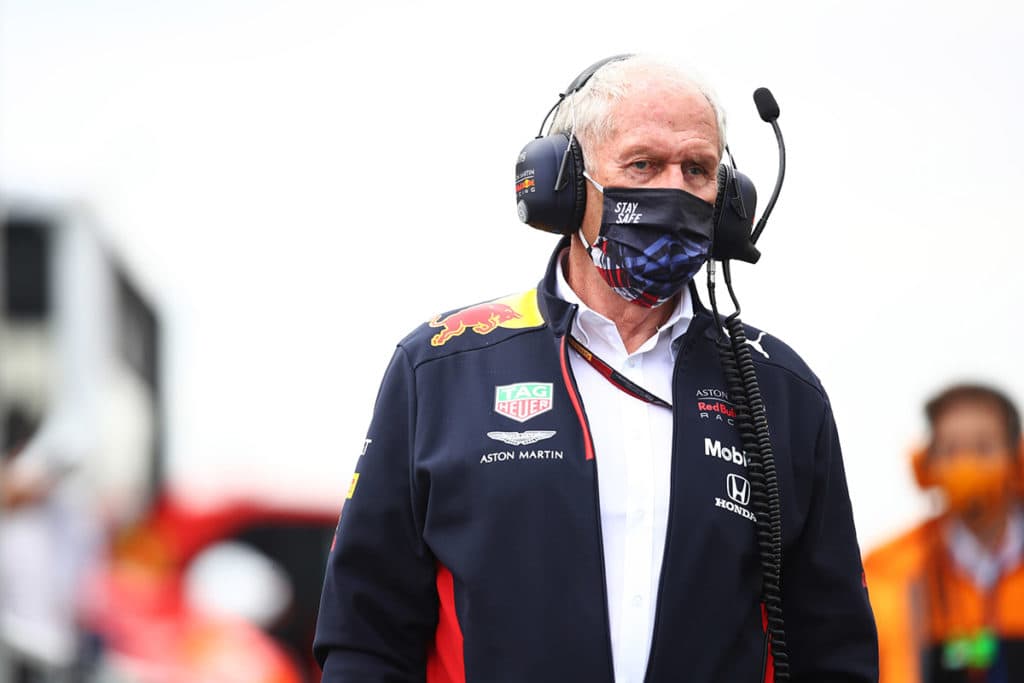 And Red Bull could well use the money that the Mexican sponsors would invest in Perez. Because if the Austrians can realize their plan to use the Honda engine on their own from 2022, the budget that has been set so far will be blown up.
Max Verstappen speaks for Hülkenberg. The Dutchman stands up for his colleague from Germany. "Nico is a great guy," he says to RTL. "What he did at the Nürburgring was great. I think he would be a good team mate, but it's not my decision." F1-Insider.com knows: Verstappen also makes policy for Hülkenberg internally. The fact that the two get along well is partly due to Hülkenberg's origins. His home town Emmerich is located on the Dutch border, and the German even speaks Dutch well.
But more importantly, Verstappen knows that he needs support in his own stable for 2021 in the duel against the dominant Mercedes. Indirectly this is also confirmed by motorsport consultant Helmut Marko at F1-Insider.com "In 2020 it didn't work out, but in 2021 we want to finally dare the attack on Mercedes and make Max the world champion, even if he can't become the youngest champion anymore." And Verstappen knows: In order not to go down beside him, you need a healthy self-confidence and stable mental strength. His former teammate Daniel Ricciardo had that, and so does Nico Hülkenberg.
Helmut Marko is still keeping a low profile. But he admits: "We also ask Max for his opinion on the driver question. We know his opinion too. But," the Austrian jokes, "whether a driver can speak Dutch is not decisive. Because the team language is English."
Author: Ralf Bach and Bianca Garloff
Follow us on Twitter!
Translated with www.DeepL.com/Translator (free version)