Next clap for Sebastian Vettel. The Ferrari star simply can't get out of the downward spiral. 2021 will solve the mystery
The Ferrari farewell tour is increasingly becoming a torture for Sebastian Vettel (33). The qualifying for the Portuguese Grand Prix in Portimao also ends in disaster for the German. Fifteenth place, out on the second qualifying lap, five tenths of a second behind Ferrari team-mate Charles Leclerc, who ends up in fourth place.
More to read: Hamilton praises Daimler
The Corona mask is becoming more and more of a welcome veil for Vettel, preventing an open view into his injured soul. Yet the German does not even bother to hide his helplessness and disappointment. "That was again not a good qualifying," he says with hanging shoulders and a glassy look. "After the first run I still had a good feeling and thought I could easily make it into Q3. In the second run I didn't get any temperature in the tires and braked immediately. I have no idea why the car is behaving so unpredictably".
Vettel to RTL reporter Kai Ebel about his anticipation for Sunday. "Next question." The break is followed by the final surrender: "The race is going to be a mess again."
The pattern repeats itself. Vettel travels to the race tracks of Europe full of hope. He makes declarations of war, exercises self-criticism, promises improvement. And then comes the hammer in qualifying, which also sees him wave the white flag in the team duel against Leclerc. "It's not just that I'm being beaten by him," says the man from Heppenheim to Sky. "He's almost in a different league. I'm doing everything I can. Even the laps I'm satisfied with are too slow. I try to get everything out of myself and the car. More is not possible."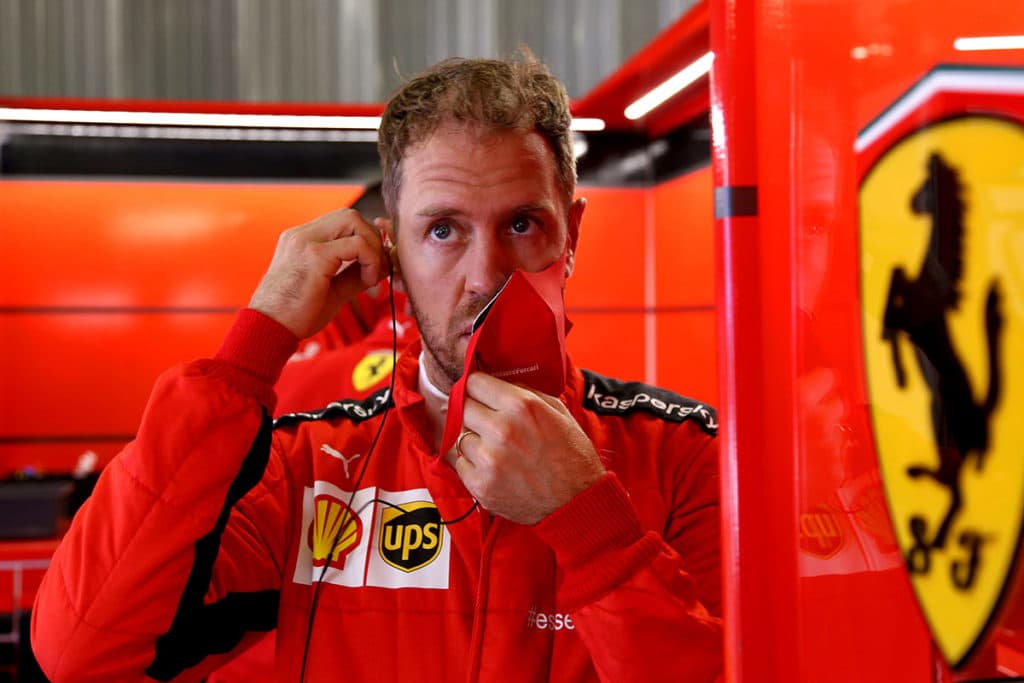 Vettel and the Ferrari mystery. The four-time world champion is in a downward spiral from which he will not be able to free himself in his last six races for the Scuderia. "A driver who notices that he can't get anything done, questions firstly the technology, secondly the approach and thirdly himself," explains RTL expert Christian Danner. "You can't tell me that a Sebastian Vettel is not suffering from self-doubt at the moment. Something like that gnaws at a driver – and then the mental kick is also missing."
The competition is also watching the Vettel vicious circle: "This is not the Vettel we know from our time," says Red Bull consultant Helmut Marko, for example. "This is by far not the Sebastian who has won four world championship titles." His future team boss at Aston Martin, Otmar Szafnauer, defends Vettel: "Sebastian hasn't forgotten how to drive," the US American tells F1-Insider.com. "It must be something else. I expect him to get along better with our car again."
For Vettel's image, 2021 will therefore be even more important than the botched Ferrari final season. "The answer, whether it's the car or the driver, won't be available until next year at Aston Martin," says Ralf Schumacher. The six-time GP winner to F1-Insider.com: "If then also Lance Stroll can put him under pressure, that would not be good.
For the German this means until then: eyes closed and through. And above all: not to lose faith in oneself.
Author: Bianca Garloff and Ralf Bach
Translated with www.DeepL.com/Translator (free version)
Follow us on Twitter!