Is Sebastian Vettel really so much slower than Charles Leclerc? We go on the trail of the red riddle
It is the question that perhaps even Sebastian Vettel (33) asks himself in moments of doubt. Has he lost the ability to drive extremely fast? Has he found his master in his team-mate Charles Leclerc? Or are there still differences between the two Ferrari cars in Formula 1?
More to read: Vettel in a tight spot
The pure numbers speak clearly for Leclerc. The Monegasque was able to win the qualifying duel with 11:2 in the 13 races in 2020 that have been driven so far. The only odd thing is that the German still had the lead with 2:1 after the first three GPs. And only after that did Vettel's problems in taming the Ferrari increase exorbitantly.
However: That the aging process of the German suddenly started after the third GP in Silverstone is considered rather improbable. But it is a fact that Leclerc was able to drive the Ferrari regularly at the limit ever since, while Vettel had to struggle more and more with a particularly stubborn rear axle. Result: Vettel is regularly about half a second slower per lap in qualifying than his team-mate from Monaco.
Insiders like Ralf Schumacher suspect: "I think that Ferrari has gone in the direction of Leclerc in all technical upgrades. And that Leclerc simply coped better with the changes in driving behavior afterwards than Sebastian". This is a completely normal process, he says. Schumacher: "If one driver stays and the other leaves the team, you are of course more likely to respond to the wishes of the driver, who will also be there in the future."
Vettel himself held back with his criticism of the handling of the car in Imola. "Especially in qualifying, I can't get Charles' times. In the race it was actually okay, but if you're too far behind in qualifying, you get stuck in traffic most of the time and the race is already over after the start, so to speak."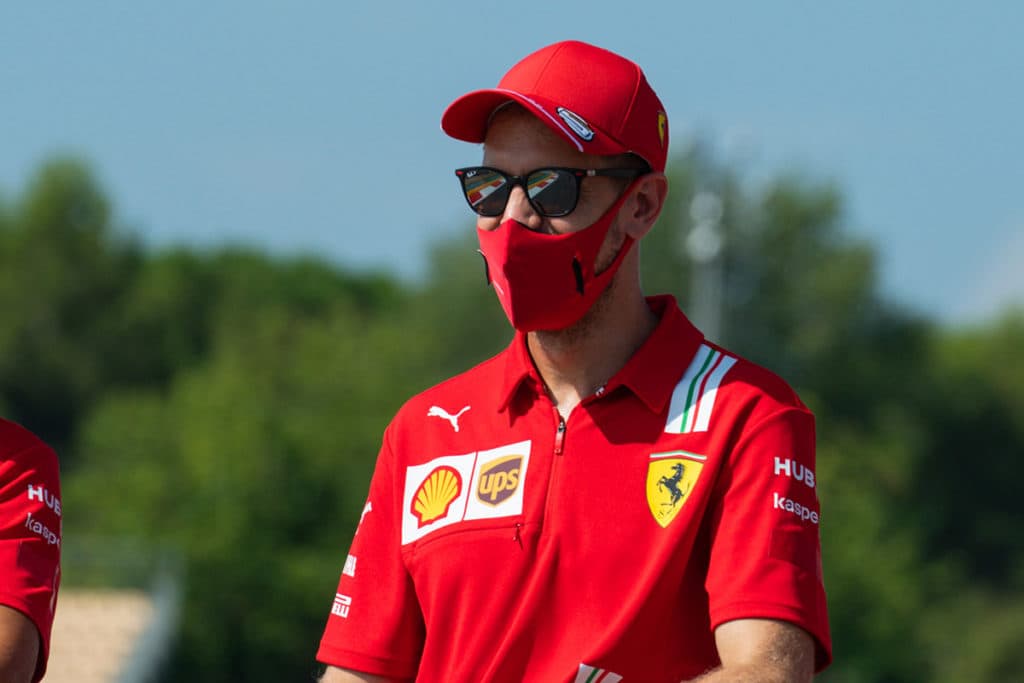 Still: Critics are now even questioning the former success of the four times world champion.
But: The past has shown that qualifying was rather a top discipline of Vettel. In his Ferrari years with Kimi Raikkonen 2015 to 2018, he was 60 times faster in 81 qualifying sessions than the Finn, who is still considered as one of the greatest natural talents of all time.
Especially during his time at Red Bull, Vettel was able to show that he can be extremely fast. In his five years with Mark Webber, he won the qualifying duel against the Australian by a clear 71-23. Vettel's boss at the time, Helmut Marko, recalls: "Before Vettel came, Webber had the reputation of being one of the fastest drivers ever in the battle for the best starting position." The figures clearly prove this. Nick Heidfeld was beaten by Webber in the qualifying duel at Williams 2005 (5:9) just as clearly as the 2016 World Champion Nico Rosberg (5:13) a year later.
Marko analyzes: "Sebastian's car has to be perfect, otherwise he starts to think about it. That's why he also had the problems with Ricciardo in 2014". The figures show that, like the Ferrari this year, the Red Bull of 2014 did not fit the German's driving style. In 19 qualifying sessions Ricciardo was twelve times faster. Marko: "But the Red Bull was not a winning car, Mercedes was miles ahead. When Sebastian is one unit with a car, he is hard to beat. This was clearly visible between 2010 and 2013, when we won four world championship titles in a row with him and his strong team mate didn't have any chance against him".
That's why Marko believes: "If the Aston Martin with all the Mercedes technology fits Vettel in 2021, we could all experience our blue wonder. Of course, I hope not, for my own sake".
Vettel has certainly not forgotten how to drive extremely fast. That's why record champion Bernd Schneider, who pursued Vettel's career even during his karting days, suspects: "Sebastian has certainly not forgotten how to drive. So the big difference between him and Leclerc must have something to do with the car…"
Qualifying duels Sebastian Vettel
BMW-Sauber
2007 Sebastian Vettel – Nick Heidfeld 0:1
Toro Rosso
2007 Sebastian Vettel – Vitantonio Liuzzi 3:4
2008 Sebastian Vettel – Sébastien Bourdais 13:5
Red Bull
2009 Sebastian Vettel – Mark Webber 14:3
2010 Sebastian Vettel – Mark Webber 13:6
2011 Sebastian Vettel – Mark Webber 16:3
2012 Sebastian Vettel – Mark Webber 11:9
2013 Sebastian Vettel – Mark Webber 17:2
Total Sebastian Vettel – Mark Webber 71:23
2014 Sebastian Vettel – Daniel Ricciardo 7:12
Ferrari
2015 Sebastian Vettel – Kimi Räikkönen 14:5
2016 Sebastian Vettel – Kimi Räikkönen 14:7
2017 Sebastian Vettel – Kimi Räikkönen 15:5
2018 Sebastian Vettel – Kimi Räikkönen 17:4
Total Sebastian Vettel – Kimi Räikkönen 60:21
2019 Sebastian Vettel – Charles Leclerc 9:12
2020 Sebastian Vettel – Charles Leclerc 2:11
Total Sebastian Vettel – Charles Leclerc 11:23
Total
Sebastian Vettel – Teamkollege 165:89
From: Bianca Garloff and Ralf Bach
Translated with www.DeepL.com/Translator (free version)
Follow us on Twitter!